Premium
Investing in psychiatry is "politically unprofitable"
At some point, politics noticed seniors who are socially active and politically "useful". Schizophrenics, on the other hand, are unprofitable for politicians, says French documentary filmmaker Nicolas Philibert in an interview with Tomasz-Marcin Wrona. His latest film "Adamant" became the second cinema documentary to win the Golden Bear at the Berlin International Film Festival.
"We may be crazy, but we are not idiots" – these were the words Nicolas Philibert heard from one of the patients of the psychiatric hospital where he shot his first famous documentary "Every Little Thing", in which he looked at psychiatric patients. It was then 1997. The film was created because, as Philibert himself points out, he received enormous support not only from medical workers and caregivers working in this hospital, but also from his patients, who assured him at every step that they would help him make the above-mentioned documentary.
25 years after "Every Little Thing", Philibert made another documentary in which he focuses on people with psychiatric difficulties or illnesses – "Adamant". However, the Frenchman would not have been one of the greatest living documentarians if he had taken shortcuts and used well-worked patterns and narrative structures. It is difficult to find in his films the approach of many documentarians who want to shock and terrify, arouse collective outrage. At the center of his films is curiosity, an attempt to understand and look at the world in a different, deeper – although sometimes requiring intellectual effort – way.
In his films, Philibert remains a non-invasive observer, not trying to pretend he is absent. Thanks to this, he interacts with the characters in such a way that he does not interfere with the reality being told. The filmmaker focuses fully on those he talks about. There are no "screaming" press headlines or expert comments. There are specific people and their experiences.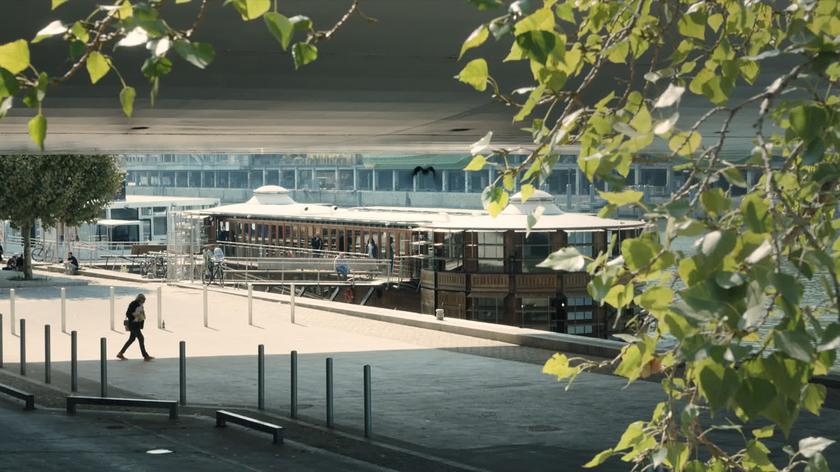 "Adamant" – the second documentary in Berlinale history to win the Golden Bear – portrays the everyday life of patients of a psychiatric day care facility located on the Adamant barge. The impressive, modern barge has been moored since 2010 on the right bank of the Seine in the heart of Paris. Adult patients from the first four districts of the French capital can find help and care here.
During a press conference in Berlin, Philibert pointed out that Adamant may seem like a utopia, but it is certainly not. In fact, the way this facility functions has little to do with the fact that French psychiatry – like Polish psychiatry – is in a deplorable condition. But this is not a film about systemic failures in psychiatric care. This is a story about blurring boundaries, and Philibert does it in a unique way. Similarly to "Be and Have" (2002) or "Every Little Thing", the documentary "Adamant" looks like a feature film. In the Parisian facility, the boundaries between patients and medical workers and caregivers are also blurring. There are no hospital gowns or other forms of distinguishing who is who. The daily rhythm of the facility's operation, including the on-board café, largely depends on the patients themselves. And they were also presented in a unique way, because we do not learn directly about their diseases or disorders. In this way, Philibert demonstrates the ordinary, sometimes ignored human need to be seen, heard and respected. And at the same time, he showed how much power lies in human creativity and the need to express ourselves.
"Adamant" directed by Nicolas Philibert in cinemas from October 6.
Tomasz-Marcin Wrona, tvn24.pl: can films such as "Adamant" change the world?
Nicolas Philibert: You started off big time. Changing the world is not that easy. However, I am convinced that films, books and all kinds of artistic activities can contribute to changing the thinking of their recipients. If we didn't believe in it, our work would make no sense. Films are not made out of cynicism, but with the hope that they will contribute to something.
This is not the first film in which you enter the world of people with difficulties, mental illnesses or disabilities. Where did the idea to return to this world come from?
Read more after logging in
Get access to premium content free and without ads
or