The health ministry informed on Sunday about 19,000. people infected with the coronavirus. Other European countries are introducing restrictions, including for the unvaccinated. Politicians in "Coffee on the bench" on TVN24 discussed whether the government should introduce restrictions also in Poland.
The Ministry of Health announced on Sunday 18,883 new cases of SARS-CoV-2 coronavirus infection. The ministry also said that 41 people had died. Since the beginning of the pandemic, 3,345,388 infections have been confirmed in Poland, and a total of 80,822 people have died after being infected with the coronavirus.
PiS deputy Mirosława Stachowiak-Różecka said that she was in the group of PiS deputies who "will support solutions that will lead to increasing security". – We are at the stage at which the government should take into account various solutions – she said about the possible introduction of restrictions for the unvaccinated. – The most important thing is that we introduce changes that will have the support of the majority and that they actually happen – she added.
Lubnauer: total surrender of the rulers
According to Katarzyna Lubnauer, a member of the Civic Coalition, "we have a total surrender of the rulers over the pandemic." – They gave up and it can be said that this is such inaction that will have criminal effects, because we, unfortunately, are the leader of the darkest statistics – she assessed.
– There is the Medical Council by the Prime Minister. This Medical Council gives some pointers. We say very clearly that if the government wants to implement the guidelines that the Medical Council gives, then yes, the Civic Coalition will support them – she emphasized. She said the government was pursuing a "poll policy" rather than an "anti-coronavirus policy" without restricting restrictions.
– Government policy is limited to one thing – as long as we are able to add beds, we will do nothing – assessed the deputy. – But it is not possible to produce additional doctors and nurses, therefore, for the time being this policy is paid by those who, for example, have to go to hospital with a stroke or a heart attack and will not be there in time – she added.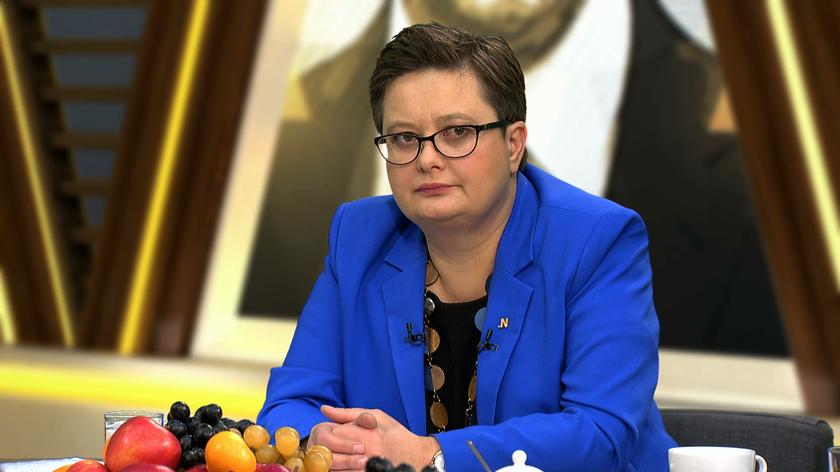 Dera: immunization rates are independent of what the government is doing
Andrzej Dera, the minister from the President's Chancellery, stated that "the level of vaccination does not depend on what the government does". – People can get vaccinated, you just need to convince people to do so. There are two ways – either to persuade or to frighten and one of these paths has to be chosen. I am a deep supporter of encouraging people to get vaccinated because they do help to get (the disease) more gentle – he explained.
"People got tired of the pandemic," he said. He added that in the first waves "people kept their distance, wore masks" and at the moment they don't "and it doesn't matter if someone is vaccinated or not". – This is not a question of the government, but of our approach to the pandemic – he said.
Zandberg: It's not like there's nothing you can do
According to Adrian Zandberg from the Left, we should introduce restrictions on unvaccinated people, "because it is our responsibility towards those who behaved responsibly and got vaccinated".
– These are really very simple things. Large mass events, entering places under the roof with a large group of people, restaurants – this is not a great philosophy, since we all have telephones in our pockets with a vaccination certificate in our pockets to check it. By using this tool, we would greatly reduce the number of infections, he said. – It's not like there's nothing you can do. It's not that all countries are doing the same, he added.
He said that he would like his country's government "to be more afraid that we are risking hundreds of deaths than of what Ms Siarkowska would say (Anna, PiS MP opposing the restrictions for unvaccinated people – ed.)". He added that his formation proposed the introduction of additional restrictions a few months ago and declared that it would support such a government project.
Stachowiak-Różecka: this is not cowardice, but a rational approach
MP Stachowiak-Różecka said that she is a supporter of encouraging vaccinations and has a similar opinion to Minister Dera. – I am a supporter of going a step further, that is actually introducing some restrictions for the unvaccinated. Not because life will be more convenient for me, because I got vaccinated, so I want to live the life of a free person, go to concerts freely, but to protect the unvaccinated ones – she said.
– I assume that this is not cowardice, but a rational approach, where the government, ministers, have to take into account various aspects. On the one hand, of course, the health of Poles and safety are an absolute priority and this is the most important, but also issues related to the economy. I think this is a reason not to lead to more lockdowns – she added.
She expressed the hope that the draft law on additional solutions to the pandemic will soon be processed in the Sejm.
Hetman: a government of great inconsistency
Krzysztof Hetman, a member of the Polish-PSL Coalition, called the PiS government "a government of great inconsistency" in the event of a pandemic. – When entering the territory of the Republic of Poland, especially at airports, where it is easy to check, everyone must present either a vaccination certificate or pass a test. Then, when they enter the territory of the Republic of Poland, kick the soul, there is no hell. There are practically no restrictions anymore, except that you have to wear a mask in public places, which nobody checks anyway – he said.
He said the government had failed "utterly" on vaccination. "He sees he is failing and does not change anything about this vaccine promotion. He did some promotion, but from the start it was practically unbelievable, because Mr. President was kind to say last year that he doesn't get flu vaccine because he doesn't. And when I talk to unvaccinated people today, they respond in the same way – "because not" – explained the MP.
Minister Dera recalled that President Duda had vaccinated against the coronavirus and encouraged vaccination.
According to Hetman, PiS "not wanting to lose the trust of its electorate does not introduce any restrictions".
Hennig-Kloska: Minister Niedzielski is a hostage of an anti-vaccine group
The Polish MP in 2050, Paulina Hennig-Kloska, assessed that "the government that puts polls on the health and life of Polish women and Poles should immediately resign." She said the government should take one side. – Today, in fact, Minister Niedzielski is a hostage of a group of anti-vaccines who sit in your club – she said to the PiS MP.
– I would like the politicians of Law and Justice to follow the rules they introduce, because this show of shoes, arrogance and stupidity that you organized last week in the Sejm was just an ordinary event, so to speak, a "covid party", because after mass contact with Marshal Terlecki (who was infected with the coronavirus – ed.), instead of going to self-isolation, you came to the room, sat together in the room with 500 other people – said the deputy.
According to Hennig-Kloski, "between the lockdown and the display of the white flag, there is really a lot of space to introduce rules and normalize our lives to save us from the worst."