Sviatlana Cichanouska, the leader of the Belarusian opposition, called on social media on Monday for a strong response from the European Union to the crisis on the border of the European Union caused by Belarus. She stressed that the matter should also be discussed by the UN Security Council.
"(Belarusian leader Alyaksandr) Lukashenka is fully responsible for hybrid attacks on Poland and Lithuania. Migrant smuggling, violence and ill-treatment must end. A response is needed. The issue should also be discussed by the UN Security Council," the oppositionist wrote on Twitter.
Under the entry, she posted a video showing a crowd of people marching along the road. She wrote that "migrants are being herded to the border of the European Union by armed people" and accused the Belarusian authorities of escalating the crisis at the border.
The Belarusian State Border Committee announced on Monday that a large group of refugees was heading towards the border with Poland. Independent media in Belarus published recordings from social media showing hundreds of migrants with backpacks and sleeping bags walking along the road towards the Kuźnica Białostocka-Bruzgi border crossing. They are accompanied by armed men in uniform.
The recording from the helicopter was also published by the Polish Ministry of National Defense. Before 1 p.m., the Ministry of Internal Affairs and Administration announced that the Polish services "thwarted the attempt to break through to the Polish side by force by migrants south of the border crossing in Kuźnica. "It was reported that the situation was under control. Other recordings of attempts to cross the border were provided by the Border Guard and the Ministry of National Defense.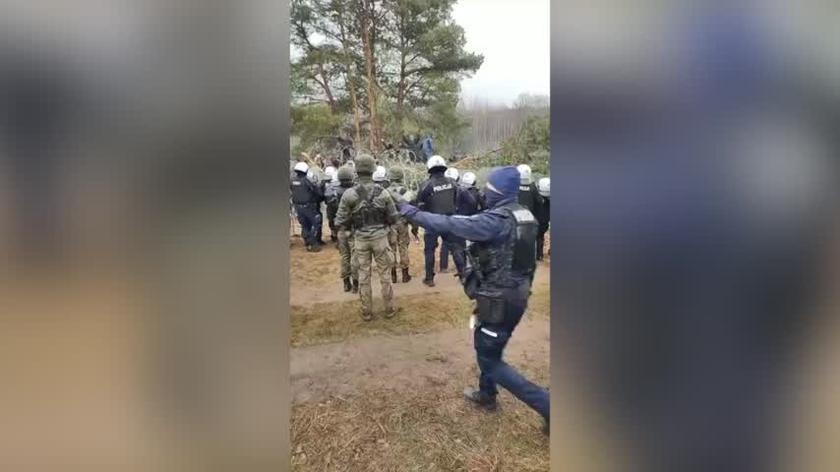 Migration crisis
Since the spring, the number of attempts to illegally cross the Belarusian border with Lithuania, Latvia and Poland by migrants from the Middle East, Africa and other regions has increased sharply. The European Union and the Member States emphasize that this is the result of deliberate actions by Belarus. They believe that this is Minsk's response to the sanctions.
Belarus rejects all accusations of organizing the influx of illegal migrants to the bordering EU countries. According to the official narrative of the Belarusian authorities, citizens of the Middle East countries who have flown to Belarus en masse in recent months to later illegally cross the border with the EU are tourists who stay in the country legally.
Main photo source: PAP / Marcin Obara