Fryderyki 2023, i.e. the 29th ceremony of presenting the most important awards in popular and jazz music in Poland today. A month ago, nominations were announced in twenty-six categories. Rubens and Dawid Podsiadło won the most, with six nominations each. Sanah and Mrozu each have five nominations. Broadcast of the gala on TVN and Player.pl.
Already today, one of the oldest cities in Upper Silesia will turn into the capital of Polish music. The best Polish singers and vocalists will come to Gliwice, which this year is the host of the Gala of Entertainment Music and Jazz Fryderyk Festival, to add splendor to the Fryderyk Awards ceremony with their concerts.
Broadcast from the gala from 19.30 Player.pland from 21:35 on TVN.
On March 23, we met list of nominees. Rubens and Dawid Podsiadło won the most, with six nominations each. Sanah and Mrozu each have five nominations.
During the gala, the Golden Fryderyks will be awarded – special distinctions honoring the entire creative output. This year's winners were: vocalist Ewa Bem, composer Andrzej Korzyński and conductor Tadeusz Strugała.
Fryderyki 2023. Who will perform?
Monika Brodka, Ania Leon with the band BOKKA, Michał Barański and Julia Wieniawa will perform at the award ceremony on the Gliwice stage. During the gala, there will also be: Grzegorz Hyży, Sara James, T.Love, Smolasty and Doda.
The audience in Gliwice and TV viewers will also hear Mróz, Natalia Szroeder, Rubens, Lanberry/Bovska and Feel. At the end of the gala, Behemoth, Rita Pax, Szczyl and Zalia will play.
Everything sounded great at rehearsal. We always have a great time playing with Kasia (Sienkiewicz). I am very happy – said T. Love singer Muniek Staszczyk on Friday in an interview with TVN24 reporter Adrian Mielnik.
According to him, Fryderyk is the most important award for Polish music. – Every Fryderyk is a serious honor for every artist – he said.
– I have a few of them, but if we succeed this year, it will be a great reward for us, because we came back after many years. We take it very seriously and with respect, he added.
– We like to play a lot, we are a live band. Over the last year we played a lot of concerts with the album "Woof! Woof!". We would like to invite everyone to concerts next year – said Sidney Polak from T. Love.
– I sing better than a year ago, so I cordially invite you – said Kasia Sienkiewicz from the Kwiat Jabłoni group.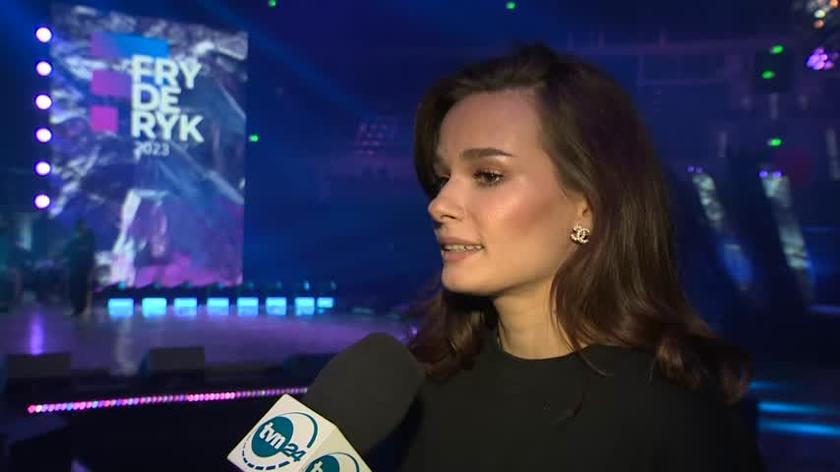 – Everyone has their own feelings and emotions, mine were very big, because these are my first nominations. I am rarely nominated for anything, so for me it was an exceptionally big thing – said Natalia Szroeder when asked by Adrian Mielnik about the reaction to the announcement of the nomination for the Fryderyk awards.
– Fryderyki is a very prestigious music award, the largest and most important. I always secretly hoped that I would see that day, that I would be able to sit in this group of nominees – she added.
Fryderki – the most important music awards in the country
Fryderyki are the most important musical nations awarded since 1995 by the Phonographic Academy, i.e. a jury appointed by the Association of Audio Video Producers, consisting of over 1,900 artists, creators, producers, journalists and representatives of the phonographic industry.
The nominees for the Fryderyk awards are selected by secret ballot of all members of the Academy divided into three sections: popular, classical and jazz music.
Members of the Academy may belong to only one section and have the right to vote only within it. Thanks to this, everyone has a chance to express themselves in the field of music that is closest to them.
The winners are chosen in a second round of secret voting. Then members of the Academy indicate only one item in a given category. If you get the same number votes by two or more nominated items is increased accordingly number of winners.
Main photo source: Krzysztof Hadrian / Agencja Wyborcza.pl