Jarosław Szymczyk brought a grenade launcher, then the grenade launcher fired (…) and nothing. The Prosecutor General is not doing anything about it – said Marcin Kierwiński (KO) in "Kropka nad i", referring to the case of a grenade launcher explosion at the Police Headquarters. Magdalena Biejat (Left Wing), however, said that "a man who should be charged, who should be dismissed immediately, is treated preferentially, in a VIP way, simply by the prosecutor's office."
The case was commented on in the "Kropka nad i" program on TVN24 by MP Marcin Kierwiński (civil Platform) and Magdalena Biejat (New Left). According to Kierwiński, "what is striking about this case" is that "the prosecutor's office does nothing about it." – Mr. Szymczyk brought a grenade launcher, then he fired the grenade launcher – and in a public place, let's say, because there are schools and public buildings nearby – and nothing. The prosecutor general does nothing about it, he said.
The MP said that "Szymczyk should be dismissed, he should appear before the prosecutor and lose his general's salary."
Biejat: we must introduce civilian supervision over the police
As Biejat said in an interview with the program host Monika Olejnik, "it best shows what kind of country we live in." – A man who should be charged and dismissed immediately is treated preferentially, in a VIP way, simply by the prosecutor's office. And unfortunately, nothing will change until not only the government in Poland changes, but also the way the police function, she said.
– The fact that Mr. Szymczyk still holds the position he holds, the fact that he is unaccounted for, is not just a matter of the fact that the prosecutor's office is politicized, but it is (also – ed.) a matter of how control is exercised in the police, she continued. The Left MP pointed out that Szymczyk "is controlled by people who report to him." – This is what the disciplinary department in the police looks like today. So it's no wonder that no one dares to hold him accountable, Biejat said.
– That is why the Left clearly says that we must introduce civilian supervision over the police, because until we do this, we will continue to have fun – added the Left MP.
Kierwiński: What kind of bribe starts the scandal for Mr. Kaczyński?
TVN24 guests also commented on visa scandal. According to Kierwiński, "there are several people who should face the consequences." He argued that Foreign Minister Zbigniew Rau "knew about everything." – We showed documents that he was informed about the practice and corruption when issuing Polish visas – he said.
– But there is also you (Minister Coordinator of Special Services, Chief Ministry of Interior and Administration Mariusz – ed.) Kamiński, who is the head of the secret services, must have known that the number of visas issued to people from Africa and Asia is increasing, and he must have also received signals about irregularities – he continued.
He added that "at the very end is the deputy prime minister for security", who from October 2020 to June 2022 was the president of PiS Jaroslaw Kaczynski. – However, he is the author of this entire security system in Poland. He is responsible for ministers such as Mr Rau, Mr Kamiński, Mr (Zbigniew) Ziobro and Mr. (Mariusz) Błaszczak. And he should also bear the consequences, said the KO MP.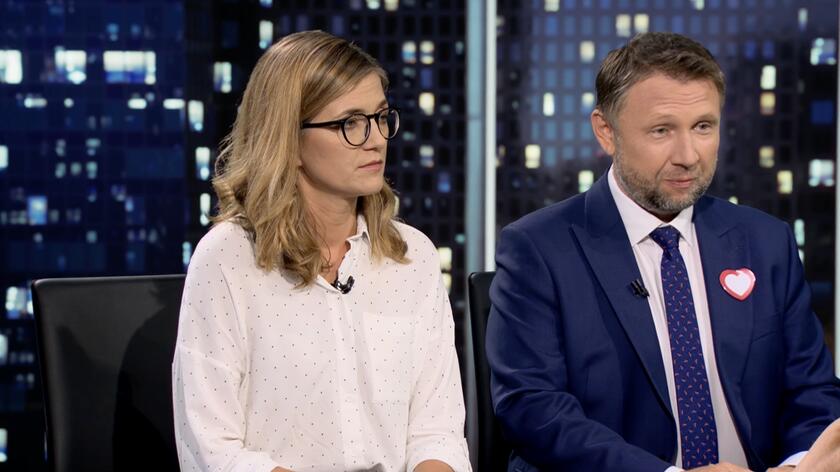 As he recalled, "Kaczyński says it's not even a scandal." – So I'm asking what kind of bribe started the scandal for Mr. Kaczyński? From over five thousand dollars? – he pointed out.
He also referred to the prosecutor's office's claims that the irregularities concerned only applications for 268 visas. He emphasized that it was "much, much more, because it results simply from the documents." – But even if one Polish visa were issued for a bribe (worth – editor's note) of five thousand dollars, it would be an incredible scandal, for which in a normal, democratic country the entire government would pay a gigantic political price – he added.
Biejat: we are dealing with bribers or losers
Biejat, however, pointed out that "we have situations in which a wall is being built on the border to detain these people, in which representatives of the Border Guard in Polish uniform are forced to 'push back' children, small children, into the forest into the swamps, pregnant women".
– On the other hand, exactly the same people, exactly the same, untested, are allowed into Poland with open arms, provided that they pay four or five thousand euros to this or another gentleman somehow attached to the Ministry of Foreign Affairs – she said.
– So we are dealing either with people who are crooks and who are simply bribe-takers, or with people who are failures and were unable to control the institutions in which they work at all. Either way, they should all be held accountable, she added.