Gaza is surrounded by the Israeli military, but Hamas is hiding underground. The system of safe houses connected by corridors is called Gaza Minor by locals, or simply the "metro". The tunnels are up to 500 kilometers long. They lead to underground quarters, cells, warehouses and even hospital facilities.
Hamas terrorists have a network of underground tunnels. They jump to the surface anywhere, at any time, and attack by surprise. – The tunnels are interconnected in such a way that terrorists can move from one area to another. They can do everything underground. They are difficult to detect, so they feel safe there. We have great difficulty in causing serious damage to this system, explains Israeli officer Amir Avivi, a retired brigadier general.
The tunnels began to be built 20 years ago. Initially, they were poorly made and often collapsed. Now they are protected with concrete or at least a wooden frame. It is not known how long they are, but Israelis estimate that they are up to five hundred kilometers long. They perform various functions. Those that reach Egypt allow for the smuggling of goods and weapons deep into the Gaza Strip. Others are used solely for military purposes – some are intended to extend into Israeli territory. – Despite the development of technology, it is still difficult to penetrate the numerous layers of soil in the Gaza Strip. There are specific deposits of sand and clay combined with salt, which makes it very difficult to precisely determine the location of the tunnels using radar, explains geologist and geomorphologist Professor Joel Roskin.
Dense network of tunnels
Typically, the galleries lie at a depth of 10 to 20 meters, but the deepest that the Israelis managed to discover was dug 70 meters underground. The tunnels are narrow. Their width and height do not exceed two meters. Hamas terrorists store supplies of food, water and weapons there. They usually have ventilation, lighting and power generators. The Israelis failed to destroy them during ground operations in either 2008 or 2014. – Hamas does not use radio communication. Communication in the tunnels is carried out using a cable network, which cannot be eavesdropped. They also use runners who carry messages from the front to commanders and back. It's a small area that can be covered very quickly. Paradoxically, this simple technology gives Hamas an advantage, says Dr. Malcolm Davis, security expert, Australian Strategic Policy Institute.
It's a never-ending spider's web, as told by an 85-year-old woman taken hostage by Hamas. – They told us to go into the ground. It was very humid there. It looked like a spider web of corridors. Lots and lots of tunnels. A huge underground network, says Yochewed Lifshitz. Israel claims that Hamas also built tunnels and bunkers under civilian facilities: hospitals and schools. Also near the refugee camp in Jabaliya, which was bombed by Israel a few days ago. – The camp included one of the command quarters and additional rooms in underground tunnels under the buildings. As a result of the impact, the buildings collapsed. Underground infrastructure was also destroyed. This is proof of how cynically terrorists exploit civilians, says Daniel Hagari, spokesman for the Israeli army.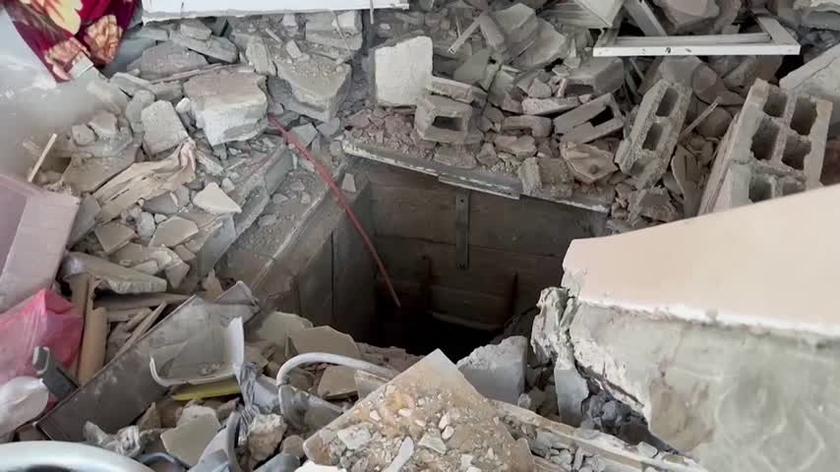 A huge threat
Military experts say Israeli soldiers will probably eventually have to go underground. Because this is the only way they will meet Hamas terrorists in direct combat. – They may have to check tunnel after tunnel to drive Hamas terrorists out or kill them. This will be extremely difficult, because tunnels are perfect places for ambushes or placing mines. It is an extremely dangerous environment for Israelis, admits Dr. Malcolm Davis.
Sometimes it is necessary to use an oxygen cylinder because the ventilation system is unreliable at great depths. Some tunnels are dark, and military night vision goggles require at least a negligible amount of light. Satellite communication does not work underground. (…) In a narrow tunnel, one shot may have unpredictable effects and also cause injury to the shooter. This limited space can give even a single fighter an advantage. To make this fight even more difficult, Hamas hid hostages underground. By bombing the tunnels, Israel is endangering the lives of its own citizens.
Facts about the World TVN24 BiS
Main photo source: Reuters