The families of the sick are wringing their hands. Doctors from home hospices are sounding the alarm. They do not have the authority to write prescriptions for free medicines. Their patients include terminally ill children. To take advantage of the free medicines guaranteed by the new act, they must queue up at the clinic.
9-year-old Igor was born with cerebral palsy and microcephaly. He cannot speak, does not walk and is under the care of the Gajusz Foundation Hospice in Łódź. A doctor who comes to the boy's home at least twice a month will not give him a prescription for free medicines. – I'm very outraged by this and it's absurd. A hospice doctor should prescribe medications in the same way as a general practitioner, says Sylwia, Igor's mother.
Doctors from home hospices explain that they have no such right and are sounding the alarm on behalf of their terminally ill patients. – A home hospice doctor does not have the authority to prescribe free medications – says Dr. Aleksandra Korzeniewska-Eksterowicz, Gajusz Foundation Hospice in Łódź. – We, as hospices, are not able to write free prescriptions for children under eighteen years of age – adds Joanna Szuberla, West Pomeranian Hospice for Children and Adults.
A painful mistake
The act that came into force two weeks ago clearly states who can issue a prescription for free medicines for children and adolescents and people over 65 years of age. This is, among others, a doctor in primary health care, a specialist clinic or a hospital. – Unfortunately, we were omitted from this list (…) I think that someone simply lacked imagination – says Krzysztof Nawrocki, medical director of the Małopolska Children's Hospice. – An error in the act, because a large group of doctors and patients was omitted – says Dr. Aleksandra Korzeniewska-Eksterowicz.
This error must be corrected quickly, says Professor Maciej Niedźwiecki, plenipotentiary of the Minister of Health for palliative care. – This is obviously a huge problem when I cannot prescribe such drugs free of charge and I should actually refer the patient to a primary care hospital just to get a prescription – argues Professor Maciej Niedźwiecki. Therefore, in many homes, the joy of free medicines is no longer so great. – The doctor does not want to come to such a primary care clinic. Because sometimes I had a problem that Igorek had a fever of 40 degrees and there was a problem with the doctor coming to my home – explains Mrs. Sylwia.
There may be many more problems, warn hospice workers. – These are often children lying down. Children who can only be transported in a stroller. Not everyone has good access to medical care. We travel within the entire Łódź Voivodeship and sometimes these are really villages at the end of the world – says Aleksandra Marciniak from the Gajusz Foundation.
According to doctors' calculations, on average every day almost 2,000 children and several thousand adults are under the care of home hospice in Poland. – Home hospices were created so that families did not have to use primary health care, did not have to go to clinics, and did not expose their children to contact with other sick children – argues Aleksandra Marciniak. – These children do not use primary care at all because we provide this treatment. We visit such a patient twice a month – adds Dr. Aleksandra Korzeniewska-Eksterowicz. – Primary care providers will be surprised where such medicines come from. This is a completely different way of proceeding in a hospice (…) 99 percent of primary care doctors do not know these children – warns Krzysztof Nawrocki.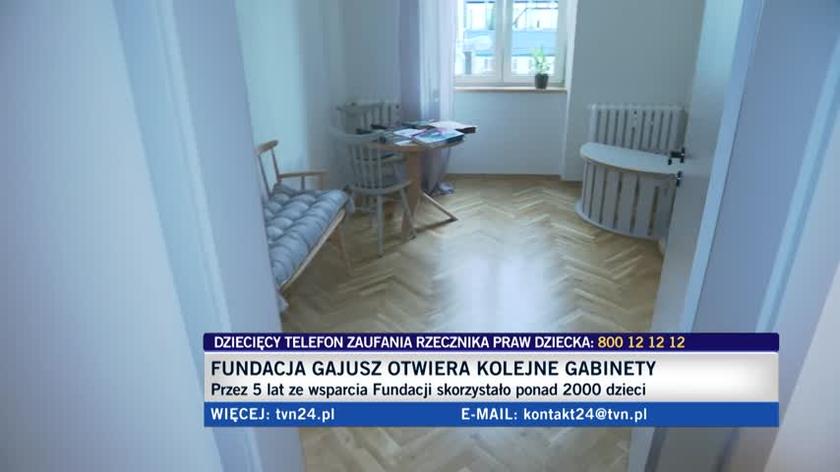 Appeals to the ministry
Parents and guardians of sick children were especially waiting for the act to come into force. There are almost 3,000 drugs on the list for people under 18 years of age. – First of all, this applies to neurological drugs and antiepileptic drugs. This is the largest group of our patients. These are often children with drug-resistant epilepsy who take several such drugs, says Dr. Aleksandra Korzeniewska-Eksterowicz. – Usually one of the parents gives up work to take care of their terminally ill child. So for them, even if it is a relief of PLN 100 or PLN 300 a month, it is a big relief – explains Aleksandra Marciniak.
The TVN24 editorial team asked the Ministry of Health to clarify the situation a week ago. Despite telephone calls, reminders and emails, there was no response. – Currently, I know that there are talks at the ministry level as well as at the National Health Fund to give us this opportunity – reveals Joanna Szublera.
The plenipotentiary of the Minister of Health for palliative care also intervened in the case. So far, he has not received a response to the letter sent. – There should be a simple provision that all doctors who have signed a reimbursement agreement with the National Health Fund have such a right, and this should be a ticket to prescribing free medicines – emphasizes Professor Maciej Niedźwiecki.
What awaits the answer is primarily patients and their families.
Main photo source: Fakty po Południu TVN24