Izabela Leszczyna from the Civic Coalition, commenting in "Kropka nad i" on TVN24, the Warsaw congress of far-right party leaders in Europe, said that Prime Minister Mateusz Morawiecki and PiS president Jarosław Kaczyński "are forming what can be called the fifth column in the European Union." In her opinion, this is the main reason why US President Joe Biden did not consult the Polish authorities about Ukraine. PiS MEP Kosma Złotowski suggested that if the United States were still ruled by Donald Trump, these consultations would take place. He admitted that the relations of Polish authorities with Biden "are quite different".
Leszczyna: Morawiecki and Kaczyński establish what can be called the fifth column in the Union
This matter was discussed in "Kropka nad i" on TVN24 by Izabela Leszczyna, a member of the Civic Coalition, and Kosma Złotowski, a PiS member of parliament. They were asked why, in their opinion, the host of the White House had not contacted the Polish authorities on this matter.
Hazel said that "PiS has such an ability to offend state leaders before they are actually called to office." – This was the case with President Biden, this is also the case with the future German Chancellor, whom he has already offended – she said.
– But I think that the main reason is that a few days ago we had a rally in Warsaw of extreme-right parties sympathizing with Putin, financed – as in the case of Marine Le Pen – by Putin. So it's hard for President Biden to talk to Prime Minister Morawiecki, who, together with President Kaczyński, are establishing what can be called the fifth column in the European Union – she said. She referred to the fact that it was held during the weekend meeting of the leaders of European conservative and right-wing parties under the name of Warsaw Summit. Jarosław Kaczyński was the initiator of the talks.
– Because this extreme right, the pro-Putinist, is to create a new union of nations, a union of homelands, that is, go against what is Polish raison d'état today – she added.
Złotowski: I suppose that if Trump still ruled, these consultations would take place
Złotowski answered the same question. – I suppose that the relations of Prime Minister Morawiecki or President Duda with the previous American president (Donald Trump – ed.) Would be such that these consultations would take place. And with this president they are completely different. Because they come from a different camp – he said.
At the same time, he argued that "the American administration is perfectly informed about the Polish position and even if there are no such spectacular consultations as could be expected during the previous presidency, there are of course talks."
When asked if in this situation it was not a mistake to meet representatives of Polish authorities from Marine Le Pen, he replied in the negative. – It was not a mistake, because we met with Mrs Marine Le Pen, but also with other forces that are represented in the European Parliament and which are represented in individual parliaments of the Member States. Because we have a similar vision of the European Union. And we discussed it – explained the MEP.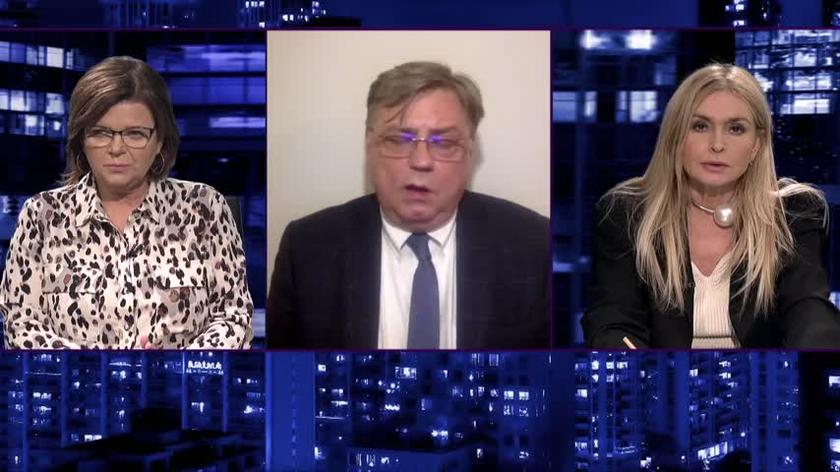 Złotowski: Le Pen's opinion about Ukraine is quite unfortunate
"Of course I don't like it, which is why we didn't talk to Mrs. Le Pen about it." We talked about European and EU matters – said Złotowski.
– When it comes to foreign affairs, relations with President Putin and Putin's Russia, well, here, facts, not even opinions, like the rather unfortunate opinion of Mrs Le Pen, count. But most of all, the facts – that the Nord Stream 2 pipeline is being built, and before that Nord Stream 1, which completely isolates Ukraine, that ministers, heads of governments of Austria, France, Germany work for Putin and get heavy money from him for this work – said the TVN24 guest .