We have a great crisis of patients' trust in the state authorities, which must be resolved – said Karolina Kowalska, editor-in-chief of "Gazeta Lekarska" in "Fakty po Faktach" on TVN24. As she said, Katarzyna Sójka, the successor of Adam Niedzielski, "came for a while", but "has a chance to somehow improve the face of the Ministry of Health and Poles' trust in the system." Doctor of pharmaceutical sciences Leszek Borkowski also spoke about what should be done in the health care system.
Karolina Kowalski, editor-in-chief of "Gazeta Lekarska", was asked on Wednesday in "Fakty po Faktach" which three most important fires the new minister will have to put out.
– Receptomats, i.e. the abolition of these unlawfully introduced limits for writing prescriptions for psychotropic substances. Let us remember that this crisis actually led to the resignation of Minister Niedzielski, she said. She pointed out that the second issue related to this crisis is "an urgent inspection related to the disclosure of Dr. Piotr Pisula's data, i.e. a ministerial inspection at the e-Health Center and later disclosure of this inspection."
– What I am talking about now are recommendations for the minister developed by the Polish Chamber of Physicians – noted Kowalska. She added that the NIL published on Wednesday afternoon such a list.
List of changes to be implemented for the new Minister of Health The President of the Supreme Medical Council handed over to the new Minister of Health Katarzyna Sójka the postulates which, according to the medical self-government, require urgent implementation. 1. Abolition of illegally introduced prescription limits by doctors. Urgent setting of teleconsultation standards preventing the functioning of the so-called prescription machines. 2. Carrying out an internal audit at the Ministry of Health and the e-Health Center subordinated to the Ministry regarding e-safety of medical data and immediately disclosing the results of this audit to the public. 3. Withdrawal of support for opening new medical faculties without a positive opinion of the Polish Accreditation Committee and appropriate teaching facilities. Withdrawal from the decision to increase recruitment for the so-called new medical schools. 4. Immediate discontinuation of the so-called licenses to practice the profession on a conditional basis and consents to practice as a physician and dentist for a specific scope of professional activities. The only document entitling you to work in our profession in Poland must remain the Practitioner's License. 5. Transfer of funds to regional funds for the implementation of changes in financing in dentistry. 6. Immediate introduction of the reimbursement process automation and removal of the obligation for doctors to determine the reimbursement level. 7. Urgent analysis of individual cases of financial penalties imposed on doctors by the National Health Fund for the so-called undue reimbursement and withdrawal from their enforcement in the event that there were medical indications for prescribing a given preparation.
Kowalska stressed that "we have a great crisis of patients' trust in state authorities, patients actually in a place where medical data about all of us is collected." She added that he "must be averted."
– I would not be surprised if some patients are now afraid to go to doctors, especially patients who need such psychiatric and psychotropic drugs, because they will be afraid that for some reason these data and this information about that they need such drugs will be revealed – she said.
As another issue to be resolved, she mentioned the one "related to granting the right to practice to doctors from outside the European Union". – It's a little messy now. We still have the problem of qualifying these doctors. A lot of doctors come to us to obtain a license to practice – she said.
She added that "people who are not necessarily as qualified as Polish doctors are trying to get to us and treat us."
Borkowski: queues in Poland would be cut by half
According to the doctor of pharmaceutical sciences Leszek Borkowski from the Bródnowski Hospital, the former President of the Office for Registration of Medicinal Products, Medical Devices and Biocidal Products, "the valuation of services needs to be changed". – Defective valuation of services causes that very good and good management of hospitals in Poland, which is not able to properly run hospitals and all hospitals fall into debt – he assessed.
– Second thing, contracting. The fun is that it is imposed on the hospital that it can accept so many patients, and no more. If we approached this problem differently, the queues in Poland would be shortened by half. But you also need to remember that an emergency patient, the one who goes hard or an accident patient, cannot take the place of a planned patient – he said.
– Today, when a planned patient is already getting ready to go to the hospital after waiting six months, it turns out that something happened and patients came "hard" and he has to wait. This is not good," he added.
Borkowski also emphasized that "the environment of health care workers is ageing". – You have to think about how to rejuvenate [środowisko – przyp. red.]because if a tsunami of various oncological, autoimmune or cardiological diseases comes, we will not be able to cope in the future – he said.
"It would be necessary to delegate certain burdens that are based on doctors to other professional groups," he added.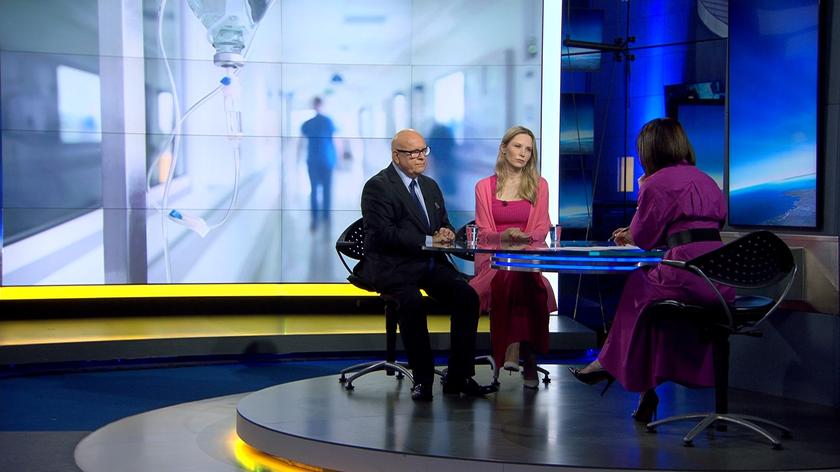 Kowalska: The new minister came for a while, but she has a chance to improve the face of the ministry
Kowalska said that Sójka "came to the position for a while". – There will probably be no time to lift the limits [ograniczające przyjęcie pacjentów – przyp. red.]but I think it has a chance to somehow improve the face of the Ministry of Health and Poles' trust, not so much in doctors, but in the system, and clarify the matter [z ujawnieniem danych lekarza i informacji o leku – przyp. red.] she assessed.
Niedzielski revealed what the doctor had prescribed
A few days before his resignation, Niedzielski revealed that doctor Piotr Pisula – a member of the presidium of the Regional Medical Council of the Greater Poland Chamber of Physicians, who in the Thursday material of "Fakty" TVN spoke about the problems of patients with access to prescriptions – prescribed certain drugs. The minister has publicly disclosed the name of the doctor. For this reason, he was strongly criticized by the medical community and the opposition, he was accused of breaking medical confidentiality and procedures in the ministry.