TVN24 reporter Jan Piotrowski talked about the police intervention against PO MP Kinga Gajewska in Otwock. The journalist followed the incident together with the TVN24 operator. He said that Gajewska was pulled out of the counter-demonstration and led to a police car. He added that the officers were informed, among others, by MP Paweł Zalewski, "that she is a member of the Sejm and that she will be able to show her ID in a moment." – And it has been repeated many times that she is an MP – he emphasized. – I must say that the officers reacted very nervously – he added.
In the evening, in the "Poland i Świat" program, Piotrowski talked about how this incident happened and what the situation in Otwock was like. He said that "everything happened about 100-150 meters from the prime minister's rally." He pointed out that the event was very well secured – there were police throughout the park, gates were set up to create corridors to the rally point, and gates where people could be x-rayed.
– There was a counter-demonstration a little further away. It was a handful of people, including two members of parliament. There was also Kinga Gajewska from the Coalition (Civic – ed.), and Paweł Zalewski from Trzecia Droga – said the reporter. – At one point she pulled out a megaphone and started talking about 250,000 visas issued by the government PIS in recent years – he added.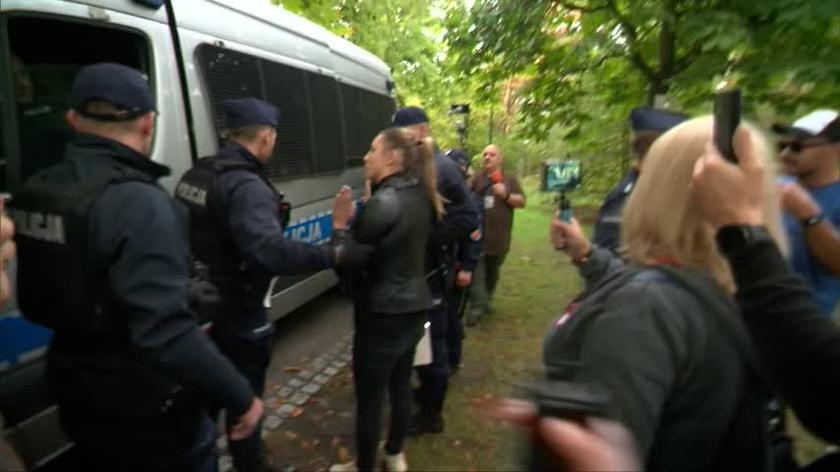 In the recordings posted on the website X (formerly Twitter), many people can be heard informing the officers that she is a Member of Parliament. Gajewska herself also talks about it. Despite this, the officers force her to the car. This can be seen in the recordings made available, among others, by PO MP Marcin Kierwiński or the young political activist Krystian Kiełtyka.
Piotrowski: It has been repeated many times that she is an MP
– When we saw that a person was being led by the police and dragged away from this counter-demonstration, at first I couldn't believe my eyes that it was Kinga Gajewska, an opposition MP. I thought it was some other woman. But she was actually led to this car – admitted Jan Piotrowski.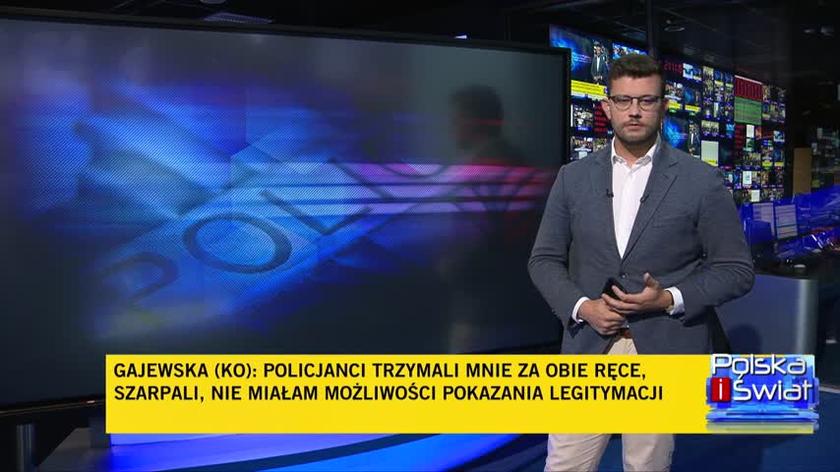 He pointed out that in the recording shared, for example, by MP Kierwiński, "you can hear from the back that the officers are being informed, and by MP Zalewski, that she is a Member of Parliament and that she will be able to show this ID card in a moment." – But she didn't have that opportunity, at least in the recordings we see here, because the policemen held her hands. And it was repeated many times that she was an MP – said the TVN24 reporter.
He emphasized that "at one point it was very tense." – I must say that the officers reacted very nervously – he added. He said that there was a moment – and this, he pointed out, was also captured on camera – "when one of the officers, actually commanding the action, said to us: Gentlemen, don't look for a cheap sensation." – I told the commissioner that we were simply recording the officers' activities. We have every right to do it, in fact we should do it so that everyone can see with their own eyes whether everything is happening lege artis – continued the journalist. He also emphasized that MP Zalewski "stood next to her all the time, informed her that she was an MP, accompanied her there."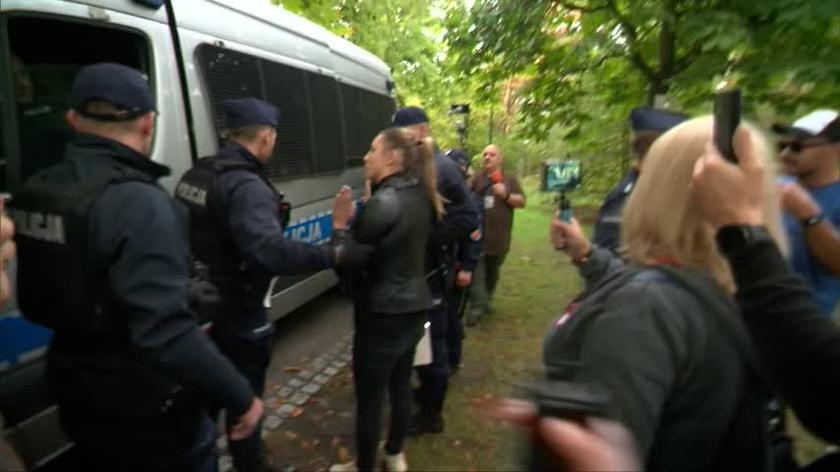 As Piotrowski said, the MP "was released from the police car very quickly." – She came out to her supporters, to those people who were there with her, and then we recorded her in a moment. She was obviously nervous. I don't think she expected it to turn out this way. Therefore, it was a bit difficult for her to believe what was happening, he added.
Police statement
The second message, issued 17 minutes later, added that "this intervention is the subject of explanations by the Control Department." "We emphasize that police officers do not know all persons with immunity. They obtain the necessary knowledge only after presenting their ID cards," it was written.
"We emphasize that today's intervention was not an arrest. It consisted in taking the person suspected of committing an offense to a police car for identification. The activities were discontinued immediately after presenting the ID," added the entry published another 23 minutes later.
Kinga Gajewska, who later appeared in "Kropka nad i" – referring to the police information – pointed out that she was not telling the truth.
The next entries appeared a few hours later, around 11 p.m. This time, the police published three recordings of the intervention against the MP – from the camera on the uniform of one of the policemen.
"We are transparent. Full recording, uncensored, thanks to body-worn cameras that we systematically equip police officers with. Police officers are not obliged to know each of the 460 MPs and 100 senators," it was written in a comment to each of them.