In Sunday's parliamentary elections, the Confederation won just over 7 percent of support (99.89 percent of districts), which is considered a defeat for this group. MP Katarzyna Kotula said in the "Kropka nad i" program on TVN24 that Sławomir Mentzen's party was also retained thanks to the New Left. In her opinion, the politician's face "hides fascist views."
According to data from the National Electoral Commission, Sunday's parliamentary elections enjoyed record-breaking interest – turnout was as high as 74 percent. The New Left won 8.6 percent. votes (results from 99.89 percent of precincts).
– The primary goal was to end the rule of Law and Justice, which was the most anti-women rule in recent years. I would like to remind you that this government began with the decision of the Minister of Health, who deprived Polish women of government funding for in vitro – said Katarzyna Kotula from the New Left in the "Kropka nad i" program on TVN24.
The MP also recalled the judgment of the Constitutional Tribunal, which, in her opinion, was based on a political order. – That is why I am so happy that the Left will be in the future government, which will reverse all the bad changes and try to repair what has been absolutely devastated over the last eight years – she added.
– Today, women cannot actually terminate a pregnancy if the fetus is damaged, but only 14 percent of births take place under anesthesia. This means that this government simply hates women, said Katarzyna Kotula.
The representative of the New Left expressed satisfaction that the Civic Coalition also considers the liberalization of abortion law to be one of its priority issues. – But we are also talking about anesthesia, perinatal care, and nurseries – she emphasized.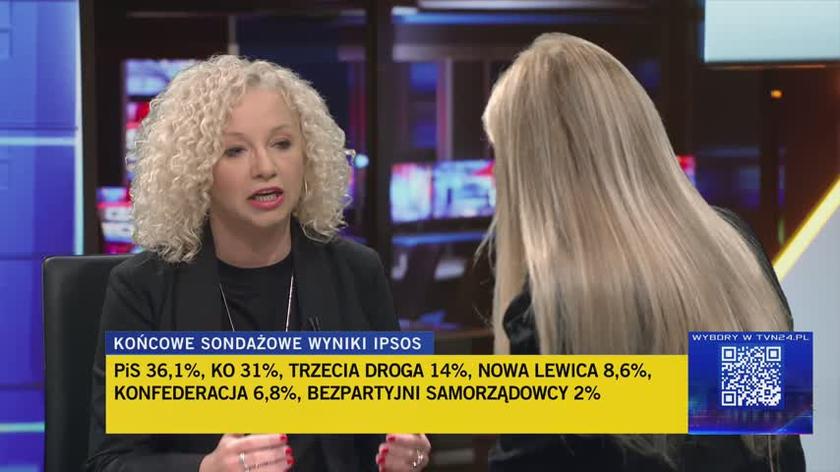 Kotula: behind Mentzen's sweet face from TikTok there is a real women's hell
Contrary to previous predictions, the Confederation won just over 7 percent. votes. The MP from the New Left did not hide her satisfaction with this fact. – (Sławomir) Mentzen talked about overturning the table, he talked about 15-17 percent. This defiant tone did not portend anything good, said Katarzyna Kotula.
– I am very glad that the Confederation was stopped, and also thanks to the Left, which showed the lies of the Confederation and showed that behind Mentzen's sweet face from TikTok there is a real hell for women – she pointed out. The MP said that behind the Confederation "there are fascist views."