President Andrzej Duda announced that Mateusz Morawiecki will be the candidate for prime minister. On Monday, KPRP Minister Małgorzata Paprocka announced that Duda would officially entrust Morawiecki with the mission of forming a government in the evening. PiS president Jarosław Kaczyński said he did not know whether the mission of forming a government was "doomed to failure." – You have your knowledge, I have mine – he concluded.
President Andrzej Duda He convened the first meeting of the Sejm of the 10th term and the Senate of the 11th term on Monday. Senior Marshal Marek Sawicki will open the Sejm session at noon, and at 4 p.m., Senior Marshal of the Senate Michał Seweryński will inaugurate the proceedings of the upper house.
Minister in the Chancellery of the President of the Republic of Poland, Małgorzata Paprocka, said on Monday that the president would entrust the mission of forming the government to the prime minister after the ceremony in parliament. Mateusz Morawiecki. Paprocka estimated that it could happen between 7 p.m. and 8 p.m. – Yes, I think it will be exactly that time, it all depends on how the session in the Senate will go, she emphasized.
Jarosław Kaczyński: you have your knowledge, I have mine
President of PiS Jaroslaw Kaczynski was asked by journalists in the parliamentary corridor whether Mateusz Morawiecki's mission to form a government was doomed to failure.
– I don't know if it's doomed to failure. You have your knowledge, I have mine, he said.
Minister at the Chancellery of the Prime Minister i PiS MP Michał Dworczyk was asked whether his party still believes that it will form a government. – It depends on the president who he entrusts with the mission of forming the government. Mr. President declared that this person would be Prime Minister Morawiecki and Mr. Prime Minister Morawiecki, I am convinced, will accept this mission – replied the MP, and then left.
Sasin: Morawiecki will undertake the mission of forming a government
The current Minister of State Assets, Jacek Sasin, said in a conversation with journalists that he remembers "such moments in the history of Poland, where there were natural coalitions, and then completely different governments were formed, so you wouldn't have to look far in 2005."
– The period of talks about creating a parliamentary majority is still ahead of us. If – and I think it will be the case – the president sticks to his announcement and designates Mateusz Morawiecki as prime minister, the prime minister will certainly undertake this mission and will try to build such a majority. However, time will tell what will happen next, said Sasin.
– We have the largest parliamentary club in the Sejm. The voters gave us a mandate to attempt to create a parliamentary majority and build a new government, and we do not want to evade this mandate, said the minister. He admitted that he did not want to talk about political cuisine, but emphasized that "everyone talks to someone."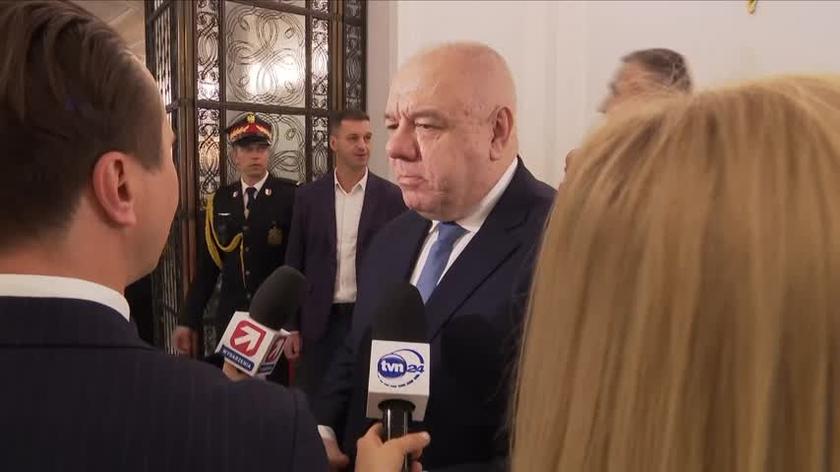 As a result elections parliamentary elections On October 15, the PiS electoral committee obtained 194 seats in the Sejm, the Civic Coalition electoral committee – 157; KKW Trzecia Droga – 65; KW Nowa Lewica – 26; KW Konfederacja – 18. On Monday, Paweł Kukiz, elected to the Sejm from the PiS list, announced that he would not be a member of the Law and Justice club and planned to establish an independent parliamentary group.
– Kukiz is a politician who ran as a candidate from the Law and Justice party, but he is not a member of Law and Justice and has not been active in Law and Justice. We were united by certain ideological and programmatic similarities and similarities. If Paweł Kukiz decides that he will be better able to carry out his mission in the form in which he announced it, then this must be respected – commented Sasin.
– From what I heard from Paweł Kukiz, he announced that he would be close to Law and Justice, he would support us, so I think it's not like we are completely separating – he added.