A protest is underway in front of the Border Guard building in Michałów, which is to draw attention to the situation of migrants at the border. Jolanta Kwaśniewska and Anna Komorowska appeared on the spot and talked to Border Guard officers. – Emotions are on both sides – said Kwasniewska. The first ladies also issued an appeal, signed also by Danuta Wałęsa.
The protest, which started around 2 p.m., is taking place in Michałów. It is a place where at the end of September migrants with children appeared, to whom the Border Guard applied the so-called push back and put it on the border with Belarus.
Demonstration participants have bags with things for people at the border. These include warm clothes, medicines, food, heaters. In addition, they have banners with the words "The border of humanity", "My homeland is humanity" or "Stop torture on the border". They chant: "The forest is not a sandbox" or "Children are afraid of the dark".
Kwaśniewska: the activists on the border are not the enemy
Former first ladies, Jolanta Kwaśniewska and Anna Komorowska, appeared on the spot. Danuta Wałęsa, who shared their postulates, did not appear due to her health condition.
Kwaśniewska and Komorowska talked with the Border Guard at its headquarters that day. After the talks, they went out to journalists and protesters.
– There are emotions in such situations. These emotions are on both sides – admitted Jolanta Kwaśniewska. – These are sympathetic people, just like us. At this meeting, there were tears both on our side and on their side – she described.
The former first lady assured that the guards would see activists operating on the border as "their allies". – It's not an enemy. You cannot fight these people – she emphasized.
There is to be better cooperation. Komorowska: time will tell what it will look like
Anna Komorowska admitted that the meeting at the Border Guard facility was not easy. – Although we did manage to establish some things. We are leaving here confident that we will manage to establish some threads of understanding because we have managed to come to the point that in certain situations we are allies and not stand on both sides of the barricade – she said.
– It seems that those who stay here will have easier cooperation with the Border Guard. Time will show how it will work in practice. We will look at it very carefully, it cannot be left without control – she announced.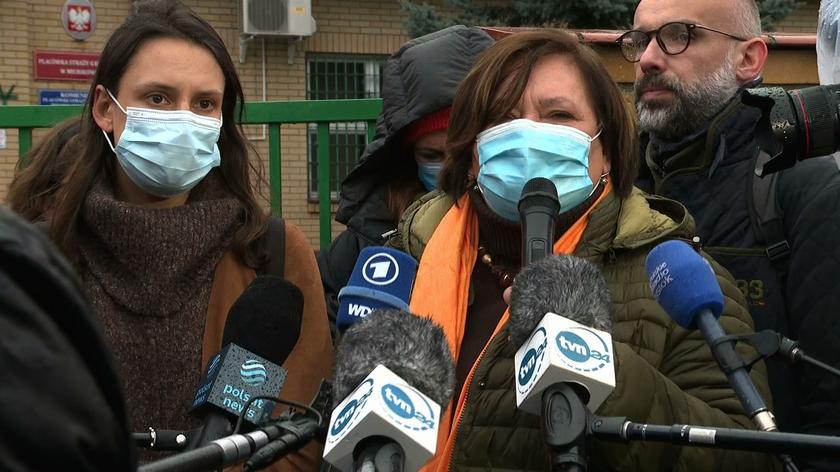 The appeal of the former first ladies
Former First Ladies had previously published an appeal on migrants.
"Today, we want to express our opposition to the inhumane treatment and deprivation of dignity of refugees in the Polish-Belarusian border zone, and jointly appeal to the government, which does not help itself, to allow medical and legal aid to be provided to humanitarian and social organizations. treatment of children "- we read.
"We do not agree to put us – Polish women and mothers – as observers of the drama unfolding before our eyes," added the former First Ladies.
They wrote that "the Polish state has enough instruments to separate those who pose a threat from those who need help." "We do not agree to stigmatizing refugees and using their tragedy for current political purposes" – they emphasized.
Wałęsa, Kwaśniewska and Komorowska also expressed their gratitude to "all people of good will throughout Poland who help those in need, and especially to all those operating in the border area". "We would like to thank the doctors and paramedics, volunteers from the Medycy na Granicy group, non-governmental organizations, local authorities and residents of border areas for their help and turning on the green light in the windows of their homes" – they wrote.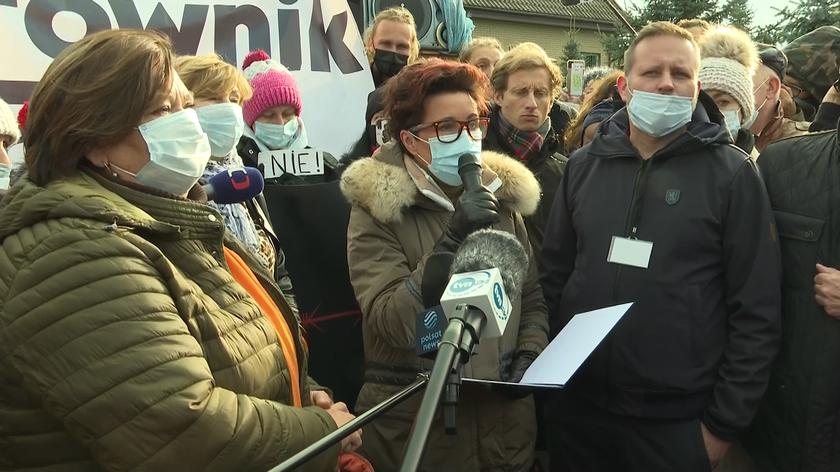 The mayor of Michałów thanks and welcomes you to the "commune of good people"
The mayor of Michałów, Marek Nazarko, is also participating in the protest. He welcomed those gathered in the commune, which – as he described – is not only "beautiful" but also "a commune of good people". – We do what we can and prove that good people live here, people who care about the fate of another person. I wanted to thank you for being here today, he said.
Sterczewski: It is really amazing that there are more and more of us here
– It is really amazing that we came here with my parliamentary office in August to help the Salvation Foundation, help all those who have started to find out what is happening on this border. Some time passes and it is really amazing that there are more and more of us here – he said to the audience.
One of the protesters: A safe border is not one where people die
– We appeal to ordinary human empathy, to such a basic value as humanism. We are talking about people who starve and freeze in the forest. First of all, we are demanding that humanitarian aid be approved. A safe border is not one where people die – one of the protesters present at the scene said in an interview with a TVN24 reporter.
The originator of the campaign: it is very important that women show it
Even before the start of the protest, the originator of the action, Joanna Stańczyk from the Lower Silesian Women's Congress Association, said that it was "very important that women show it that there is no consent to take children to the forest".
– We are going there to demand the admission of humanitarian and aid organizations, medics – she added. – We want to force our government and services to let these organizations in – she emphasized.
"We are obliged to support people in some way"
Katarzyna Kuca, the co-organizer of the campaign, also an activist from the Equator of Rights Foundation, said she was going to protest because she "does not agree with what is happening". – If the government does not react, then we, the citizens, are obliged to somehow support the people who are at the border. I am also a mother, I cannot imagine that children would spend even a day in such conditions, and they stay there for days, weeks – she added.