The upcoming parliamentary elections were discussed by the guests of the "#BezKitu Campaign", who plan to run for seats in the parliament. Ryszard Petru, an economist, admitted that he was "willing to run as part of the Senate pact", but also allowed a candidacy for the Sejm. Jan Maria Jackowski told an "anecdote" from collecting signatures for the registration of his own committee. The writer Jacek Dehnel explained why he decided to run from the list of the Left and what he would like to focus on as an MP.
The guests of the Friday edition of "Kampania #BezKitu" were economist, former leader of Nowoczesna Ryszard Petru, independent senator Jan Maria Jackowski and writer Jacek Dehnel. Each of them declares their start in elections parliamentary meetings on 15 October.
Petru will admit that he is "willing to run under the Senate pact". – The Senate pact seems to have accepted my proposal, but until it is announced, I would not like to declare anything. I understand that the announcement will be next week and I hope that we will all be satisfied. But as long as there's no final, I can't step out of line."
– It is important that I can bring specific points to the opposition in the election campaign. I believe that the main threat from the point of view of democracy is today Confederationwhich is a party that is fresh and can win voters relatively easily, but we can take them away from the Confederation relatively easily, he continued. – Therefore (…) I would like to have a district where you can clash not only with PiSbut with the Confederation. Win with PiS and stop the Confederation, he declared.
When asked what if he did not enter the list of the Senate pact, Petru replied that "there is another variant". According to him, maybe a district where a local candidate will be needed. – If there is such an alternative, I declare my willingness to run for the Sejm in the constituency where Mr. Sławomir Mentzen is running and I would like to face him in the election campaign. Because it seems to me that this is a way to score points for both position and to stop the Confederacy.
When asked whether he would be allowed to run not only for the Senate, but also for the Sejm, he said: – Yes, it is. The point is (that) I want to fight. And the point is that this fight should be effective.
Jackowski told an "anecdote" from collecting signatures
– I have no changes, as I am running from my own committee – said Jackowski. He added that he was in Ciechanów on Friday, where he was collecting signatures to register the election committee. – Only after I register, I can start collecting signatures for my candidacy for the Senate – he reminded.
He also pointed out that the statements of the opposition leaders show that the Senate pact has abandoned its intention to field its own candidate in the constituency in which he is running. However, he stipulated that "everything indicates that the candidate of Law and Justice will be".
Jackowski also told an "anecdote". – When I was collecting signatures today in Ciechanów, great supporters of the current government, for example, come and criticize the opposition and sign my support. But in a moment, the opponents of the current government come, believing that it is very bad for Poland, and they also sign me, said the senator.
He argued that "for 12 years of hard work in this district" he tried to "positively solve the problems that people came to me with and the problems of the region".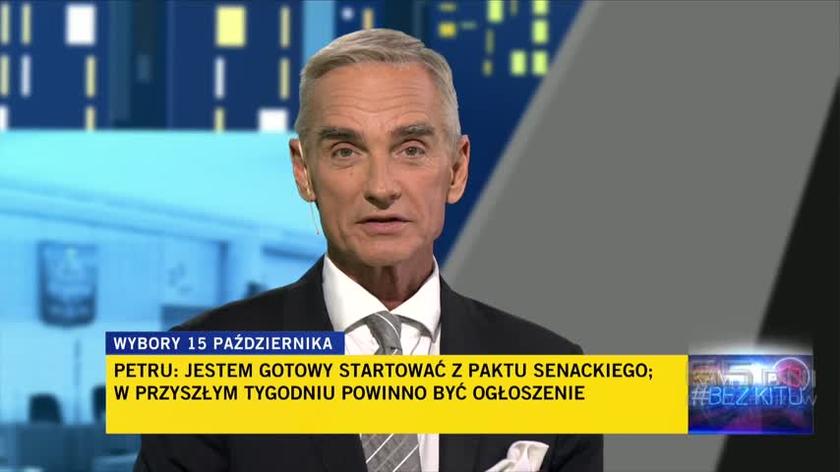 Dehnel about why he decided to run for the Sejm
Jacek Dehnel, who will run for the Sejm from the lists of the New Left, talked about the circumstances of the decision. – Very often I heard from various people that I should run for politics. And every time I wrote back, because it was mostly on Facebook that nobody proposed it to me, so it's not an option at all. And one time, a member of the Left simply wrote to me and proposed it to me – he said.
He admitted that "of course it's not accidental." "For a long time, I have been actively participating in the public discussion about the state of the country and how we could improve the situation of our society."
– Of course, I'm not a politician by profession, I'm a writer by profession, but it's also a useful skill. A large part of the problem we have in Poland is the language, the inability to communicate, the inability to frame ideas in such a way that they can be properly supported by the electorate, by the society, he continued.
When asked what he would like to do in parliament, he indicated that it was about "simply restoring the rule of law and a democratic state, because this is the most important thing." – However, when it comes to specific matters that I know somehow, the key issue for me is the issue of marriage equality, or at least at the beginning of partnerships and the protection of LGBT against hate speech, against discrimination. – he handed over.
– Secondly, the Act on Artists' Insurance, on which PiS started its work quite decently – he added.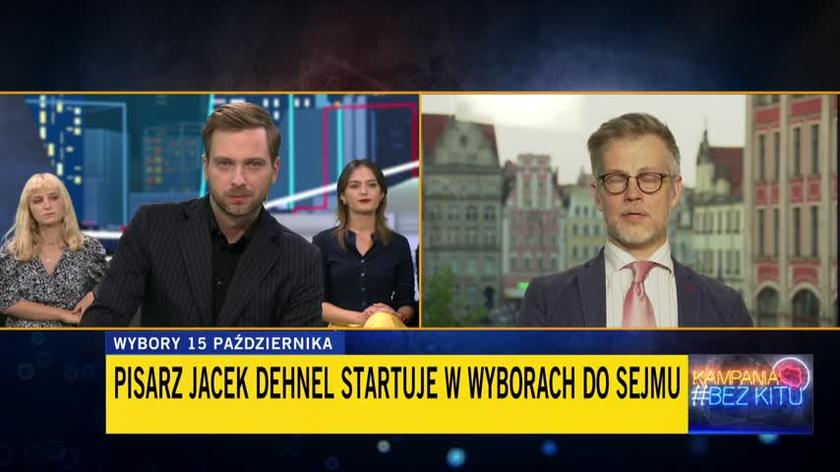 Dehnel, who lives in Berlin with her husband, was asked if he intended to return to Poland. As he said, "if Poland changes for the better, he intends to return to the country." – This is our country, we are both patriots, we feel good in Poland, but not in the Poland we have now – he said.
– It is independent of whether I am running for office, whether I will have a mandate or not. It depends on how it will look in the country. I can get a ticket, but if it is still PiS Poland, you can travel by train from Berlin for six hours twice a month – he added.
Goncerz: sooner or later we will all be patients
The program also featured Sebastian Goncerz, chairman of the Residents' Agreement of the National Medical Trade Union, who spoke about the protest of resident doctors planned for September 30 in Warsaw, and about problems in the health care system.
"Sooner or later, we're all going to be patients, and it's critical that we get into a system that is well-maintained, that cares about quality, and not just looking at things as Excel tables and pure numbers," he said.
Questions were asked by Wojciech Machulski (New Hope), Karol Bąkowski (Young Left), Patrycja Kozień (East Initiative), Maria Targosz-Gajewska (New Generation).