The second day at the Pol'and'Rock Festival was marked by excellent music, talks and gestures of support. During the meeting at the Academy of Fine Arts, the journalist of "Fakt" TVN, Wojciech Bojanowski, talked about his work. During the concert of the Jinjer band, they expressed their support for Ukraine. The Equality March was also held on the same day.
Journalists Wojciech Bojanowski and Marcin Wyrwal participated in discussions at the Academy of Fine Arts during the Pol'and'Rock Festival. – For me, the bulletproof vest has become a workwear. While reporting on various armed conflicts, I have learned that dangerous situations do not happen when we go to the front or when we know that there is some shelling – said the journalist from "Fakt" TVN.
– The most dangerous situations happen by accident, when you are going somewhere, talking to someone, filming someone digging trenches and suddenly rockets start flying overhead or someone starts shooting – he added.
Marcin Wyrwal from Onet said that "by choosing such a job", he knew that "you need to report a story that is happening in front of our eyes". – I never thought about changing my profession. Information must flow to the public – he added.
Wojciech Bojanowski also assured that he had never thought about changing jobs. – I don't feel like a full-blooded war correspondent. Crises do happen and when you have crises, the good news is that they end sometimes – he said. – We can often emerge stronger from these crises – he added.
A gesture of solidarity with Ukraine at the Pol'and'Rock Festival
During the concert of the Ukrainian band Jinjer at the Pol'and'Rock Festival, participants created a Ukrainian flag of blue and yellow cards to express their support for the attacked by Russia country.
– We want to show them that we are in solidarity with them, that we are not indifferent to what is happening there, and that we are with them with our whole heart, body and soul – commented the participants of the festival. – In the current situation when Ukraine he is fighting with Russia, I think it is a super show – they added.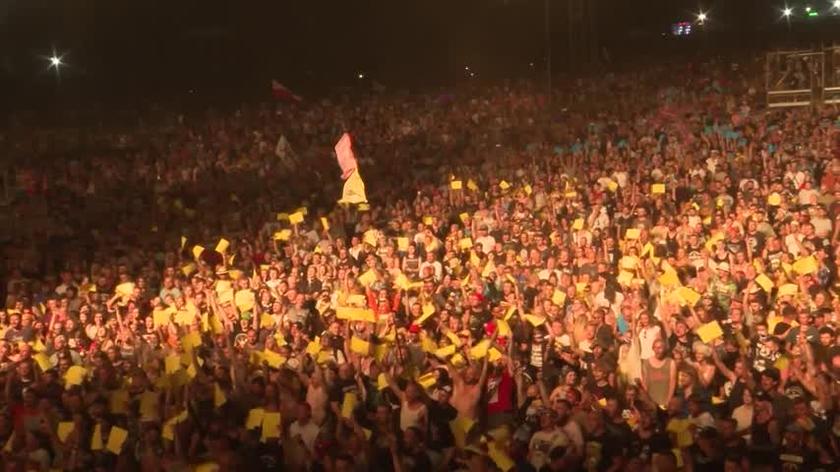 The Equality March at the Pol'and'Rock Festival
At this year's edition of the Pol'and'Rock festival, the Equality March was held again. One of the participants explained that she is taking part in it because "we create a community and show how many of us are." – The atmosphere is great, because everyone here is open and friendly, unlike some cities in Poland – she added.
– The slogan "equality" has a deep and multifaceted meaning. I believe that we are all equal beings from birth and that no divisions should ever take place – said another participant of the march.
Main photo source: PAP / Marcin Bielecki