It cost me a lot to share this story – said Joanna in "Fakty po Faktach". A woman who admitted to having taken abortifacients and was subsequently searched by police while in hospital said she was treated "very harshly" by officers. She added that at one point the police officers ordered her to strip naked. "I was terrified then," she admitted. Referring to the course of the police intervention, she assured that earlier in a conversation with her doctor she said that she "does not intend to do anything to herself".
Mrs. Joanna decided to take the abortion pill because the pregnancy was supposed to threaten her health. She felt bad both physically and mentally. She informed her doctor about it. In the Krakow hospital, she was interrogated and searched by the police. The officers took her laptop and phone.
Ms. Joanna: I was treated very harshly by the police
Joanna described the situation in more detail in Wednesday's "Fakty po Faktach" on TVN24. – I admit that I was under a lot of stress at the time and some details have already faded from my memory, but there was definitely complete chaos. I was asked questions, I did not hide what had happened. I spoke openly about the fact that I bought the drugs myself, I took them myself – she said.
"Even so, I was treated very harshly by the police not to use too much language," she added.
When asked about the intervention of the police, she admitted that it was difficult for her to understand. – There was certainly no concern there. I have a feeling they weren't there to take care of me. I was surprised by their presence. It's not like I knew the police would be there. I just asked for help to get professional, medical help – she emphasized.
Referring to the information provided by the police, which claims that the officers intervened because the woman wanted to hurt herself, Joanna said that "this was not the case". – When I called the doctor, I made it clear: "I'm not going to do anything to myself, I don't want to do anything to myself, I need help to calm down a bit" – said the TVN24 interlocutor.
"It was worth overcoming this fear somewhere and publicizing the whole thing"
The woman said that the doctors from the Hospital Emergency Department stood up for her a lot. "They said there was no need for the police to be involved because I was not a threat. In fact, I just sat there and cried, but there were constant questions about where my phone was, where my computer was," she said.
Mrs. Joanna added that "the word 'crime' was repeated all the time". I knew I hadn't broken the law. That's why I said right away that yes, I did it on my own, no one helped me.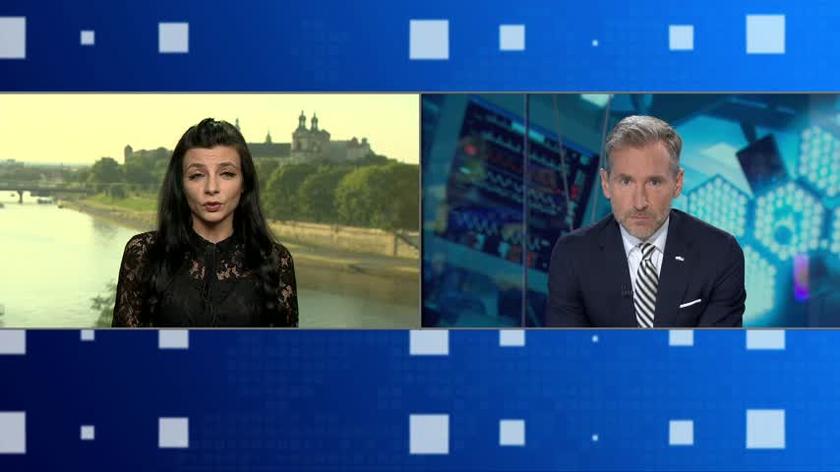 Joanna: They told me to strip naked, I was already terrified
Mrs. Joanna also described what happened later, when she was referred to the second hospital. – Next, I was transferred by ambulance escorted by wagons with the siren on to the gynecology ward. I still don't understand why I ended up in the gynecology ward. The medical abortion I performed did not threaten me in any way, I did not need this kind of care – she said.
She also confirmed that two police officers appeared at the scene at the time. "They told me to strip naked, do squats and cough. It was the most difficult moment for me in all of this, the moment when I felt that no one was protecting me, that I was completely alone in this situation in which I was absolutely stripped of my dignity. It was very humiliating for me, I was already terrified then – Joanna continued. She added that at that time she could no longer count on the protection of her privacy from doctors.
"I took off my clothes, only my panties, because I was still bleeding and it would have been too humiliating for me. They then said that I should also take my panties off. And then I shouted in their face: "what do you want from me", a gynecologist had just examined me – reported Joanna.
– So far, I have no answer to the question of what it was for, what they wanted to check in this way – she added. – I don't know if they wanted to check if I'm hiding this phone in my genital tract, I don't know. Then I gave up in fear that they would touch me, that they would do something to my body, (…), then I already gave the phone back – she said.
Joanna on abortion: it should not be discussed in an atmosphere of fear and terror
"It took me a lot to bring myself to share this story, and it wasn't easy. I've been thinking about it for a long time. I decided to do this to finally do something about this taboo around the word "abortion". It happens more often than more people realize. This should not be discussed in an atmosphere of fear and terror, Joanna continued.
She added that "women should not feel that they have to hide, be afraid. They should not feel stigmatized." – If the law cannot be changed, I would like it to be understood at least socially that it is not ok, that laws are broken, that policemen are unpunished, that they are above the law, that it is ok to talk about it loudly, without stigmatizing, without tabooing , which only seems to wind up some collective paranoia around the word "abortion" – she said.
She also said she was getting "a huge amount of supportive voices". – It is very important to me. I am very grateful for this response and for this support. And it only confirmed my belief that it was worth speaking out. It was worth overcoming this fear somewhere and publicizing the whole thing. I am convinced that this is the only way to change anything, to improve the situation of women – added the TVN24 interlocutor.
Joanna's representative: this is a dramatic but true picture of the situation of women in Poland
The second guest of the program was Kamila Ferenc, Mrs Joanna's attorney, a lawyer from the Federation for Women and Family Planning "Federa".
She said that in the case of Joanna "there are no grounds for police action". "These actions were unlawful, disproportionate, and exceeded the powers and powers vested in law enforcement," she said.
She assessed that this is "a dramatic, but true and not exaggerated picture of the situation of women in Poland – how women are not treated, that they are treated as a thing, as an object, as someone who always does wrong, as someone who needs to be corrected, who hides something and to whom one must dictate. – Joanna, unfortunately, was treated like a criminal, like a criminal. What's more – even dangerous criminals, when they go to the hospital, for example, are not treated in this way, because no one organizes interrogations and searches in hospital wards – said the lawyer.
Ferenc also referred to Wednesday's police statement about Joanna. She stated that "this is another episode of humiliation in relation to Mrs. Joanna, blaming her, shifting the blame, but also making a smokescreen against not only her own incompetence, but also political cynicism." – Because the inhumane treatment of a woman who bleeds, who is under stress in such a way, defies all standards, but also human decency – she added.
Joanna's representative: I will demand compensation, an apology and disciplinary liability
– As a representative, I will certainly seek financial compensation from the state treasury, an apology for the actions of the police, but also all public officials involved, including disciplinary liability – announced Ferenc.
– I will also want to question the action of the doctor who started this whole series of events. However, I also believe that a systemic change is needed. What is needed is the decriminalization of aiding and abetting abortion, repealing Article 152 of the Penal Code. He is responsible for the fact that women today are punished for something they have a right to, even though they have done nothing wrong – she said.
§ 1. Who, with the consent of the woman, terminates her pregnancy in violation of the provisions of the Act, is subject to the penalty of deprivation of liberty for up to 3 years. § 3. Whoever commits the act specified in § 1 or 2, when the conceived child has achieved the ability to live independently outside the body of a pregnant woman, shall be punishable by imprisonment from 6 months to 8 years.
Interventions in connection with the case of Ms. Joanna
The police released a statement on Wednesday in the case described by "Fakty" TVN. "Due to the fact that there was a suspicion of committing a crime in the form of helping a pregnant woman to terminate her pregnancy through funds from an illegal source, it was necessary to secure the devices that the woman used to finalize the purchase of these funds (laptop, telephone)" – the Police Command said. Municipal Police in Krakow. "At the same time, the police had to check whether the woman had any drugs from an unknown source that could threaten her life after taking them" – added.
"The information did not concern an abortion or the adoption of an early abortion pill, but a threat to the patient's life," the ministry said. He added that the police accompanied the emergency medical team, which went to the patient as a matter of urgency.
"From the medical point of view, the conduct of doctors and hospital staff was correct" – the Ministry of Health noted. At the same time, it indicated that police officers should be contacted with their superiors regarding the conduct of police officers.