The Minister of Education, Przemysław Czarnek, met on Friday with representatives of trade unions to talk about working time and salaries of teachers. The unionists are disappointed and expect a meeting with Prime Minister Mateusz Morawiecki – before November 18, when they are to sit down again to talk with the minister.
Talks on working hours and teachers' wages between the ministry of education and trade unions have been going on since early spring. The Minister of Education and Science in his speeches repeatedly repeats that he wants to restore the prestige of the teaching profession. However, it wasn't until September that he made it clear to trade unionists exactly what he meant. Czarnek offers teachers a PLN 1000 gross increase, but in exchange for extending the so-called pensum, or lesson hours. Today, one job is 18 such hours, Czarnek wants 22 of them.
What was agreed at the meeting?
Czarnek was surprised by the attitude of trade unionists, which was mentioned, among others, by On October 19, summing up the year of his work in the ministry. He even stated that trade unions did not represent teachers' interests.
Nevertheless, the meeting with trade unions, which, according to Czarnek's earlier plan, took place on October 22, took place in a calm atmosphere. – We have nothing to do with the atmosphere, such meetings will simply get us nowhere – commented Sławomir Wittkowicz, chairman of the FZZ, in an interview with tvn24.pl.
This is why the trade unionists decided that they wanted Prime Minister Morawiecki to join the talks on the pragmatics of the teaching profession as soon as possible. – Minister Czarnek wants us to meet him again on November 18, so it is understandable that the meeting with the prime minister would have to take place earlier – says Wittkowicz. And he adds: – Otherwise, there is no chance of an agreement.
On Friday, Minister Czarnek repeated the assumptions of his reform to date. As trade unionists point out, the only new thing – although Czarnek has already mentioned it in the media – is the possibility of early retirement of some teachers. According to the Ministry's calculations, this right would apply to around 45,000. teachers. How does this relate to changes in working time? The extension of the number of hours will result in layoffs – as the minister himself admits – and some teachers could be saved by retirement.
What's next?
– It is good that we are standing here together today – emphasized Krzysztof Baszczyński, vice-president of the PNA after the meeting, pointing to the presence of representatives of other unions and a consistent position. But then he added: "What worries me is that we have not made any progress in our talks with the minister when it comes to the pragmatics of the teaching profession." If further talks do not help, we will have to consider a different strategy, he added.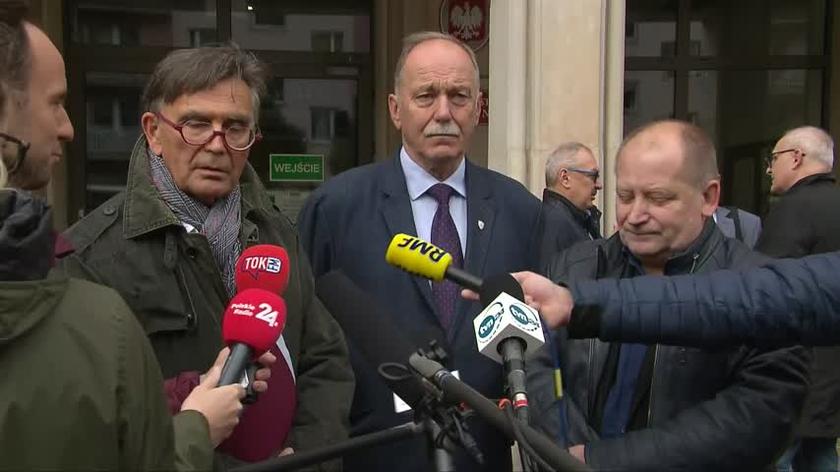 Potential plans of unions are limited to the possibilities provided for by the Act on Collective Disputes. An extreme option that they can choose is a referendum, which may end in a strike. This was the case in 2019.
The minister seemed to be more pleased with the meeting. – We are pleased with today's team meeting. We are after very difficult talks that move us a bit further. We would like to thank local government officials and trade unions for this meeting – he said
On Friday, Czarnek agreed that further meetings about teachers should be held on a bilateral basis – without representatives of local government officials. The minister is to meet with the latter group in a separate meeting.
First of all, trade unions want teachers' salaries to be linked to the average salary in the economy. and certain solutions of the budgetary law – also at the EU level – said Czarnek after the meeting.
#continuously
At tvn24.pl, we are looking at the ideas of Minister Przemysław Czarnek and his advisers. We translate the official language of laws and regulations into the language of school practice for you. We assess with experts whether what is behind these ideas and proposed solutions will be beneficial for students and teachers. We check whether school autonomy is under threat and whether parents will actually have an impact on the education and upbringing of their children. All this – articles, interviews, videos, interactive infographics, research reports – can be found on our website under the slogan #continuously.
Main photo source: Tomasz Gzell / PAP