The Japanese princess Mako, after years of media storm around her relationship, married Keia Komuro, whom she met at the university. Marrying him deprived Mako of his status as a member of the imperial family. The princess herself, who claims that media coverage led her to symptoms of post-traumatic stress disorder, resigns from a multi-million dollar severance pay. He wants to start a new life in New York.
The story had all the makings of a modern royal fairy tale: the marriage of an aspiring lawyer to a princess who was ready to leave her Tokyo palace to start a new life in New York.
But since the Japanese princess Mako and Kei Komuro announced their engagement in 2017, their relationship has been drowned in scandals, widespread disapproval and tabloid media frenzy.
"Common" son
All because some Japanese did not recognize the "common" son raised by a single mother as worthy of the princess' favor. Their disdain had taken root in late September when Komuro arrived in Japan and showed himself with his long hair tied in a ponytail. The tabloids then published pictures of the 30-year-old taken from all angles, some compared him to a samurai. And while there was a group on social media expressing support for Komuro, others said it was the appearance inappropriate for a groom about to be in a relationship with a princess.
According to Hitomi Tonomura, a professor at the University of Michigan and an expert on gender studies, people saw a ponytail as a sign that Komuro was not living up to social expectations. – If he were a singer or artist, it would be good. But people don't think he looks like a lawyer or the right person to be the husband of an imperial woman, 'he explains. The man has already got rid of his long hairstyle.
This is the latest in controversial couple-centered events.
"Perfect aristocrat"
Princess Mako, who turned 30 on October 23, is the niece of Emperor Naruhito. She grew up in an imperial environment. He has a younger sister, Kako, and a younger brother, Hisahito. As a child, the firstborn granddaughter of the former emperor and empress quickly attracted public opinion. – Her manners are impeccable. People saw her as the perfect aristocrat, recalls Japanese journalist Mikiko Taga.
Princess Mako was to attend private Gakushuin University along with other members of the wealthy elite, however she chose to study for a BA in Arts and Cultural Heritage from Tokyo International Christian University.
It was there that she met Komuro, a man born just three weeks before her, in October 1991, to a much more modest family.
Raised by a single mother, Komuro lost his father and both grandparents at an early age. After graduating from the International Christian University in 2014, he worked in a Tokyo law firm. Then he won a scholarship to study law at the Fordham School of Law in New York.
Mako's studies took her in a different direction. In 2014, the princess left for the British University of Leicester as part of an exchange student. There, by not disclosing it to the public, she lived relatively anonymously. She managed to defend her master's degree in museology.
Engagement
After completing their education, the couple returned to the common tracks. In 2017, she announced her engagement. Japanese public opinion was still delighted then. Back then, at a press conference, Mako described Komuro as "sincere, strong, hard-working, with a big heart and a smile as bright as the sun." The Japanese media then hailed him as "the prince of the sea" in reference to the character he played in a tourist campaign on the beach of Fujisawa, south of Tokyo.
Everything seemed to be going as the couple dreamed up. Soon, however, the first signs of problems emerged around them.
Postponed wedding
The couple planned to get married in 2018, but had to postpone it. The Imperial Court Agency, responsible for state affairs affecting the imperial family, then said that the delay was due to "insufficient preparation," but it was suspected that this was due to reports of financial disputes, according to which Komuro's mother had not returned the $ 36,000 she had borrowed from her ex-fiancé. Komuro questioned this version of events. Earlier this year, he issued a 28-page statement in which he wrote that his mother thought the money was a gift and that he promised he would pay the debt to settle the dispute.
The incident sparked a spiral of rumors that focused on analyzing every aspect of the Komuro family, as well as the princess's future husband himself. It was then that the opinion turned away from the couple.
– Although in the United States we would have thought that the mother's activities were not related to Komuro, the adult male, people in Japan saw it as a problem and transformed him from a nice, good, truthful young man into a calculating opportunist who pursued prestige and perhaps for money, comments Professor Tonomura.
CNN journalists point out that a chance meeting at a university is not a normal path to marriage for the Japanese imperial family.
Kaori Hayashi, an expert in media studies and executive vice president of the University of Tokyo, explained to the American portal that partners for royal family members are usually carefully selected from the traditional circles with which the family maintains. Professor Tonomura adds that in Japan there is still a perception that single mothers are unable to raise decent children. "In Japan, there is also a strong misogyny that degrades single mothers morally and economically," he notes.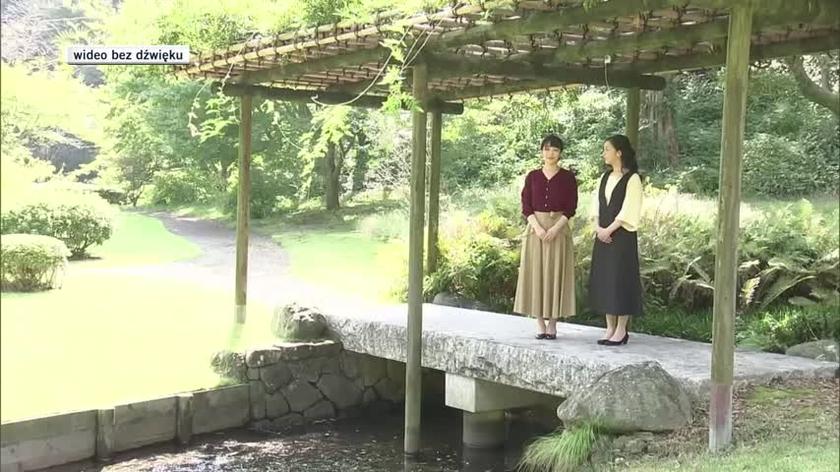 There were several small protests against the wedding in Tokyo. According to the demonstrators, the imperial family is a symbol of unity, and the union of Mako and Komuro divided society. However, not everyone thinks so. – Mako has been waiting for this for years. It must have been painful. It's wonderful to see their love survive, comments one Tokyo resident in an interview with CNN.
The pressure of imperial life
Years of speculation and slander left their mark on Princess Mako. She herself claims that she has suffered from post-traumatic stress disorder (PTSD) caused by the mental abuse of her and her fiancée and their families for several years.
"She has a hard time feeling lucky because she is constantly afraid that her life will be destroyed," the princess' psychiatrist, Tsuyoshi Akiyama, told the media.
The princess is not the first royal Japanese woman to feel the pressures of imperial life. Japan's Empress Masako married Emperor Naruhito in 1993, abandoning a promising diplomatic career in favor of living in a royal home. Before that, she had refused to engage her twice, fearing the tensions that might await her at the imperial court. Masako struggled with adaptation disorders for a long time. She also suffered from blaming herself for not producing a male heir. In 2001, the couple saw the birth of Princess Toshi.
Mako was not the first
Under Japanese law, members of the royal family must relinquish their titles and leave the palace if they marry a commoner. Mako is planning a civil wedding, without a setting suitable for a princess. She will be the first imperial woman in post-war Japan to marry without traditional court ceremonies.
Under Japanese rules, women of the imperial family lose their royal titles if they marry men of the people. The departing princess, at her request, will not receive the one-time severance pay of 150 million yen ($ 1.3 million) from the state budget for women losing royal status. It is assumed that the severance pay is to maintain a high standard of living after leaving the court.
Mako was not the first princess to take such a step. Earlier, a similar decision was made by her aunt, Sayako Kuroda, the only daughter of Emperor Akihito and Empress Michiko, born in 1969. In 2005, she married a city official, Yoshiki Kuroda.
Princess Mako, as a woman, was not in the line of succession to the throne. Japanese inheritance law only applies to men. Her role in royal life was to support male relatives.
After the wedding, she plans to move to New York, where Komuro works for a law firm.
"This is a dramatic exit from the imperial family," comments Kennth Ruoff, head of the Center for Japanese Studies at Portland State University and author of The Imperial House of Japan Post-War, 1945-2019. – This is a warning to the imperial house. This means that the princess was clearly fed up – she adds.
With Mako gone, the Japanese imperial family will shrink again. He currently has only one male heir. The fate of the world's oldest dynasty rests on the shoulders of Hisahito, born in 2006.
Main photo source: PAP / EPA