Małgorzata Kidawa-Błońska (Civic Coalition) was elected the new Speaker of the Senate. She received 66 votes. – This is a really great day, because from today Poland is changing – she said after taking up the position. The following were elected deputy marshals: Magdalena Biejat (Left, Razem party), Rafał Grupiński (Civic Coalition) and Michał Kamiński (Third Way). However, PiS candidate Marek Pęk did not receive support from senators for this position.
Pursuant to the Senate regulations, the Marshal is elected from among candidates proposed by at least 10 senators, adopting a resolution by an absolute majority of votes.
Two candidates were put forward for the position of Speaker of the Senate: Małgorzata Kidawa-Błońska (Civic Coalition) and Marek Pęka (Law and Justice).
In a secret ballot, Kidawa-Błońska received 66 votes, Pęk – 33. Thus, the politician, making her debut in the upper house of the Polish Parliament, became the Speaker of the Senate of the 11th term.
Kidawa-Błońska: it's a really great day
– This is a really great day, because from today Poland is changing. Poles decided they wanted change and this change came. We answer to them. We cannot waste any vote cast for democratic parties, said Kidawa-Błońska after taking up the position.
As she added, "Poles want change, they want freedom, responsibility." – They want the words to mean what they mean. For justice to truly be justice. That the law is respected, that the constitution is valued. So that each of us, each Pole, can fulfill their dreams – she emphasized.
– Poles want us to take care of this and create such law – she added.
The newly elected Speaker of the Sejm congratulated Kidawa-Błońska on social media Szymon Hołownia. "I count on good, substantive cooperation," he added.
Marek Pęk from PiS was not elected as deputy speaker of the Senate
The following people were elected as deputy speakers of the Senate: Magdalena Biejat (Left, Razem party), Rafał Grupiński (Civic Coalition) and Michał Kamiński (Third Way).
68 senators voted for Magdalena Biejat's candidacy, 22 were against and 8 abstained. Rafał Grupiński received the support of 83 senators, two were against his candidacy and 14 abstained from voting. Michał Kamiński was elected with the votes of 70 senators, 9 against and 14 abstentions.
22 senators voted for Marek Pęk's candidacy, 60 were against and three abstained.
"In the last term, Vice-Marshal Pęk spoke very aggressively towards opposition senators, compared them to Russian agents, and was punished with a statutory penalty by the Ethics Committee. There is no consent for such behavior. A seat in the Senate Presidium is waiting for another PiS candidate," he wrote in social media senator Marek Borowski.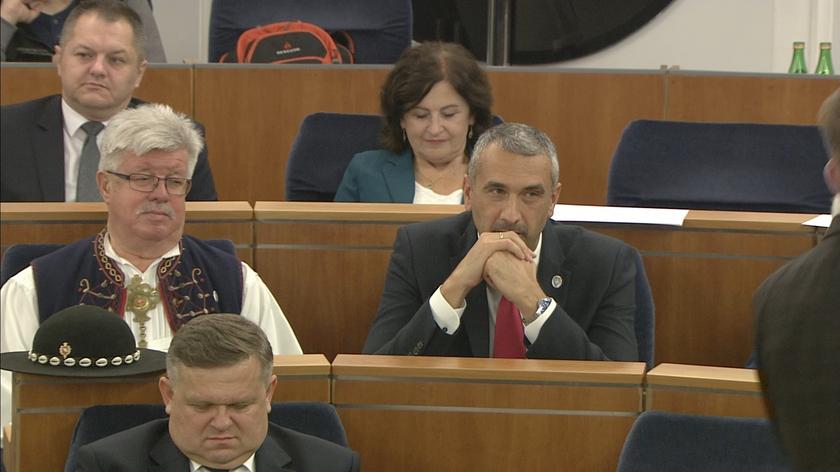 Karczewski: we will not change the candidate for Deputy Speaker of the Senate
Stanisław Karczewski, head of the Senate part of the PiS club, said that his party would not change Pęk's candidacy for the position of deputy speaker of the Senate. – We will continue to report him. If he is not elected, I will recommend that PiS not have a representative in the presidium, he said. He added that the PiS Senate club would probably not agree to chair any of the committees, because PiS only proposes two chairmanships in the talks.
Who is Małgorzata Kidawa-Błońska?
The new marshal Małgorzata Kidawa-Błońska (née Grabska) was born in 1957 in Warsaw. Her great-grandparents were the President of the Republic of Poland from 1922-1926, Stanisław Wojciechowski, and the Prime Minister from 1920 and 1923-1925, Władysław Grabski. She graduated from the 11th Secondary School. Klementyna Hoffmanowa in Warsaw and obtained a master's degree in sociology at the University of Warsaw in 1982.
From the beginning of her professional career, she was involved in film and culture. In the years 1994-2005 she was a producer and, together with her husband, director Jan Kidawa-Błoński, she produced films and television programs. Kidawa-Błoński directed, among others, such films as "Destined for the Blues" or "Little Rose".
Małgorzata Kidawa-Błońska – political activity
She joined the Civic Platform in 2001, and a year later she was elected as a councilor of the capital city. Warsaw. She became an MP for the first time in 2005, also from the PO list, winning 4,615 votes. Later, she was a member of the Sejm of the 6th, 7th, 8th and 9th terms. In 2019, starting from Warsaw, she obtained her best result – 416,030 votes. In 2023 in elections she received 231,122 votes for the Senate.
For many years, from 2006 to 2013, she headed the Warsaw structures of PO. She was also, among others, press spokeswoman in the presidential campaign of Bronisław Komorowski in 2010, spokeswoman for the government of Donald Tusk in 2014 and Ewa Kopacz in 2015, and secretary of state in the Chancellery of the Prime Minister at that time. For a short period, from June 25, 2015, to November, she served as the Speaker of the Sejm, and at the first session of this chamber after the elections, she was elected Deputy Speaker of the Sejm. She also became a deputy speaker after the 2019 elections. In 2020, she was the candidate of the Civic Coalition for president in the elections scheduled for May 10 during the pandemic. Ultimately suspended its campaign and appealed to citizens, like other opposition politicians, not to participate in them. Vote Ultimately, it did not take place on this date.
Main photo source: PAP/Paweł Supernak