The court reduced the sentence of one of the members of the "pack" – a group of men who raped a teenager in Pamplona, ​​Spain, in 2016. It was from this case that mass protests began, which led to revolutionary changes in the law regarding sexual violence. However, it quickly turned out that the new regulations also contributed to the creation of a legal loophole and gave some criminals the opportunity to apply for shortening their sentences. One of the rape convicts in Pamplona has now used this loophole.
Supreme Court Navarre in the north Spain he reduced the prison sentence of one of five men from the so-called "pack" (Spanish: La Manada – this is how they named their group in a popular messenger, which they used for conversations). A man was convicted of participating in the gang rape of a teenager. It happened during the Sanfermines festival in Pamplona in 2016. His sentence has now been reduced from 15 to 14 years in prison. The decision may be appealed to the Spanish Supreme Court.
The reduction of the sentence was made possible by a law called "solo sí es sí" ("only yes means yes"), which – although greatly expanding the concept of rape (consent to sexual intercourse must be conscious, cannot be implicit) – merged previously separate crimes in the legal system. As a result, the minimum penalty for certain acts also had to be reduced. As a result, since autumn, some convicts have had the opportunity to apply for shortening their sentences.
Social protests from a few years ago, which broke out after the rape in Pamplona, ​​were related to the fact that the court initially decided to sentence the attackers from the "pack" to shorter prison terms for sexual abuse (a category that the "solo esí es sí" law abolished) , which was supported, among other things, by the fact that the terrified victim did not put up any resistance, and his alleged passivity was supposed to mean consent. Ultimately, in 2019, the Spanish Supreme Court increased the sentences of the five men to 15 years in prison.
A great national debate and pressure on politicians led to the approval of the new law. However, it quickly turned out that it contained a loophole, which since the entry into force of the new regulations has led to the leniency of sentences for over a thousand convicts and the release of over a hundred perpetrators of sexual violence.
Rape in Pamplona in 2016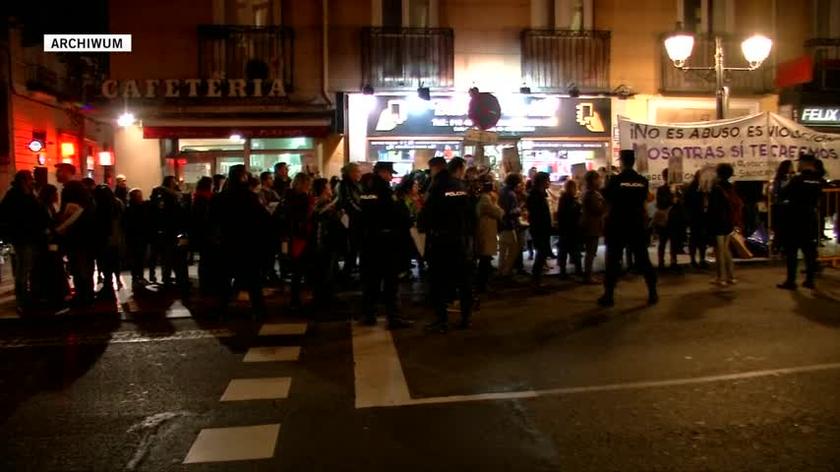 Main photo source: JUAN CARLOS HIDALGO/EPA/PAP