After the completed attacks near the Bruzgi-Kuźnica border crossing, migrants return to their camp on the Belarusian side, the Border Guard said on Twitter. The services informed that on Tuesday morning stones and stun grenades were thrown towards them. The police said that the activities of the services at the border lasted over two hours.
"Currently, foreigners are returning from the border crossing in Bruzgi to the area of ​​the former encampment located a few hundred meters further along the border line. Everything is done under the supervision of the Belarusian services," the Border Guard wrote after 2 p.m. on Twitter. She also published a recording.
Earlier, the spokesman of the minister for the special services coordinator, Stanisław Żaryn, informed that Polish officers and soldiers had repulsed the first wave of attacks by migrants. The services reported that a Border Guard officer, a policeman and a soldier were injured.
Attack near Kuźnica
The situation at the border crossing between Bruzgi and Kuźnica worsened on Tuesday morning, when the migrants who had arrived there the day before threw stones, branches and stun grenades at the Polish services and tried to force their way into Poland. The police used water cannons. Tomasz Krupa, spokesman of the Podlasie police said that the attack lasted a total of over two hours.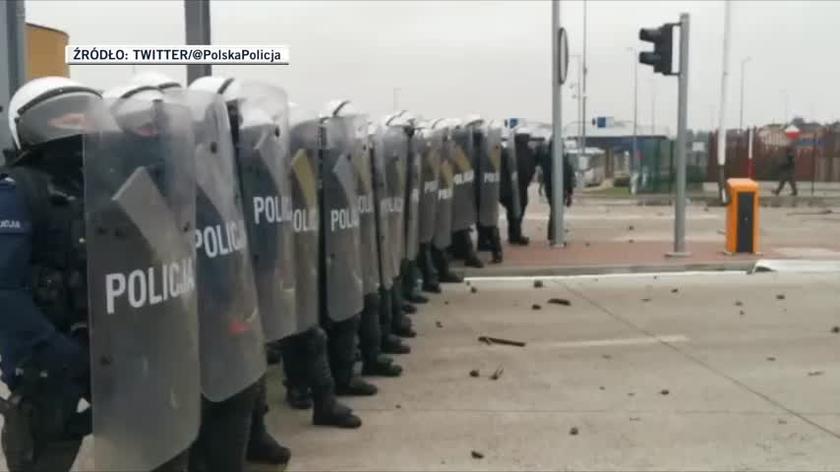 State of emergency
From September 2, due to the migratory pressure in the border zone with Belarus in 183 localities in the voivodeship In the Podlasie and Lublin regions, a state of emergency is in force. It was introduced for 30 days under the ordinance of President Andrzej Duda, issued at the request of the Council of Ministers. The Seym agreed to extend the state of emergency for another 60 days.
Journalists have no access to the area covered by the state of emergency. When reporting on the events at the border, the media can use almost exclusively official government recordings and information.
By the middle of next year, a steel barrier will be erected on the Podlasie section of the border with Belarus, topped with barbed wire and enriched with electronic devices. The dam will be 180 km long and 5.5 m high. Along the border, motion sensors as well as day and night cameras will be installed. The Bug River is a natural dam in the Lublin region.
Main photo source: Twitter / Border Guard