On Monday, Deputy Minister of Foreign Affairs Paweł Jabłoński spoke with Iraq's chargé d'affaires, Hussein al-Safi, on how to end the migration crisis, the Polish Ministry of Foreign Affairs informed.
"Deputy Minister Paweł Jabłoński spoke today with the chargé d'affaires of Iraq, Hussein al-Safi, on how to end the migration crisis. The deputy minister thanked for the closure of Belarusian consulates in Baghdad and Irbil and expressed his hope for further cooperation with the Iraqi authorities," the Ministry of Foreign Affairs said on Twitter.
Ministry of National Defense: migrants set up a camp in the Kuźnica region
On Monday morning, the media published information about a large group of migrants in the vicinity of the crossing in Kuźnica, preparing to cross the border between Belarus and Poland. "The services of the Ministry of Interior and Administration and soldiers managed to stop the first mass attempt to cross the border. migrants set up a camp in the Kuźnica region. They are constantly guarded by the Belarusian services, wrote the Ministry of National Defense after 4 p.m. and published the recording.
In connection with the situation, the crisis management team met on Monday, followed by a meeting between the president and the prime minister, ministers, chiefs of services and the highest commanders of the army.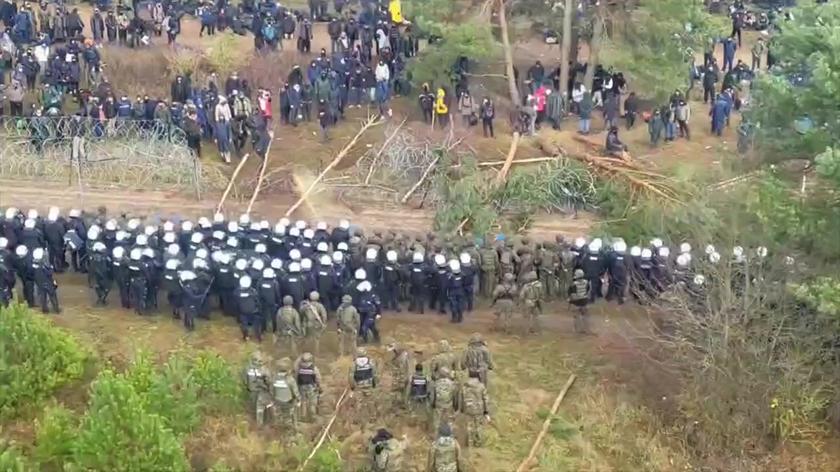 The state of emergency at the border with Belarus
Since the spring, the number of attempts to illegally cross the Belarusian border with Lithuania, Latvia and Poland by migrants from the Middle East, Africa and other regions has increased sharply. The EU and its member states believe that this is the result of the deliberate actions of Alyaksandr Lukashenka's regime, which instrumentally uses migrants in response to sanctions.
From September 2, due to the migratory pressure in 183 localities in the province. Podlasie and Lubelskie, adjacent to the border with Belarus, a state of emergency is in force. A dam is to be built on the border with Belarus in the first half of 2022.
When reporting on the events at the border, the media can use almost exclusively official government recordings and information. Journalists have no access to the area under the state of emergency.
Main photo source: MSZ / twitter