They want to change Poland for the better, although there is also a lot of resentment in them. Young people first wrote about how they see Poland after the upcoming elections, and then clashed in the debate. They discussed with professors from prestigious universities, including Harvard. The competition for high school graduates was organized by Collegium Civitas.
This year's high school graduates debated with professors from Harvard and other foreign universities. The event was organized as part of the competition of the Collegium Civitas Foundation for this year's high school graduates for a text about the future of Poland after the 2023 elections. During the panels, the finalists presented and discussed their works.
The winner of the competition, Patryk Kral, was a guest of TVN24 and talked about his work during the conversation. "My work depicts a young man who notices social problems, but does not react to them and later suffers severe consequences," he said.
The finalists also wrote about ecology or changes in education. – In my work, I focused on changes in education, because it seems to me that this is where you should start – with educating young people, and then everything should fall into place – explained Zuzanna Opalska.
Care for the climate and nature, more involvement of the society or improvement of the education system – these are only some of the topics addressed by young people. – There is no reliable sex education, there is also no psychological knowledge, no empathy – the winner of the competition points out.
Patryk Kral in "Morning TVN24" also spoke about the young generation's lack of faith in their own agency. – It shows that this agency is important, the willingness to act, and not just passive observation – he emphasized.
"They reach for Tuwim, but they also reach for Taco Hemingway"
The other winners this year also surprised the jury with the high level of submitted works. – They reach for Tuwim, but they also reach for Taco Hemingway – says Jacek Żakowski, head of the Department of New Media and Journalism at Collegium Civitas. – This year they give way to such flashes of hope and this hope is not even related to a specific political situation, a change of power, but with the hope of changing the world, that they can have some agency – he adds.
The juror of the competition, Professor Wojciech Sadurski, also notes that the work was accompanied by a "melancholic current" – a certain piercing sadness in the works of people who are just entering their active lives, especially civic and political life – he says.
For the first time in their lives, this year's high school graduates will be able to take advantage of the rights acquired with the coming of age and vote in the parliamentary elections in autumn. – An important question to which I do not know the answer is to what extent young people will go to the polls. In smaller and larger studies, young people emphasize that they do not see an offer for themselves, points out Professor Dariusz Skrzypiński, a political scientist from the University of Wrocław.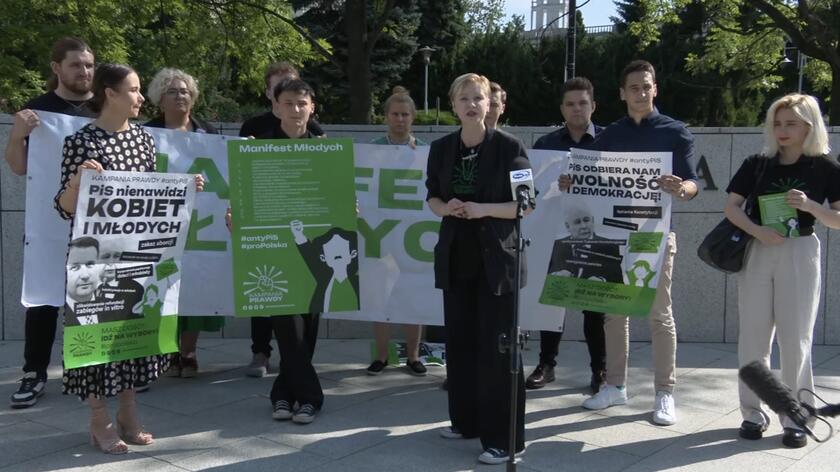 Youth vote in elections
Until now, the percentage of young people who went to the polls was lower than the average percentage of voters, but research in recent years shows that the willingness to vote is increasing.
Professor Skrzypiński points out that young people "are not satisfied with the surrounding reality, so they can rebel" and adds that their rebellion can manifest itself in two ways. – I'm not going, I don't want to have anything to do with it and we've always had this kind of rebellion. Second rebellion: I'm going, but I will vote for those who promise a big change – he explains.
The winners of the Collegium Civitas competition encourage you to act and vote. – This critical thinking is often lacking and we trust implicitly the information we come across – points out Patryk Kral. – I am aware of how important my one vote will be, which will be this grain in this pool – says Zuzanna Opalska. A decision that they themselves call the most important in the modern history of democratic Poland.