Such things should not happen and will certainly be stigmatized – said Presidential Minister Andrzej Dera, commenting on the visa scandal. He noted that former deputy minister of foreign affairs Piotr Wawrzyk bore political responsibility for this. – We will wait to see how this case develops – added Dera. Justice Minister Zbigniew Ziobro said that Wawrzyk would definitely be interrogated.
There are further resignations due to the visa scandal. On Friday, the Ministry of Foreign Affairs, after dismissing Deputy Minister Piotr Wawrzyk, removed Jakub Osajda, director of the Legal and Compliance Management Office of the Ministry of Foreign Affairs, from his position. The ministry also issued a statement in which: we can readthat Polish consulates will be subject to inspection, and contracts with external companies that provided visa services will remain. Just over a week ago, one of such agreements was concluded. Although PIS he has been talking regularly about the pseudo-scandal for several days, the prosecutor's office announced charges of paid protection against seven people and about three people arrested. The opposition, commenting on the scandal, emphasizes that it was not just a visa trade, but a trade in Polish security.
Dera: such things shouldn't happen
Presidential Minister Andrzej Dera commented on the matter. – There were irregularities regarding the acceleration of visa procedures. It was traced by Polish services. These people have been charged, some even arrested – he said in an interview with TVN24. As he added, "this is common." – From what the prosecutor reported, this concerned 268 cases – he pointed out.
Dera emphasized that "such things should not happen and will definitely be stigmatized." – Political responsibility for this was borne by Minister Wawrzyk, who supervised consular affairs. We will wait to see how this case develops, because as far as I know, the proceedings are still ongoing, said the presidential minister.
Ziobro: Piotr Wawrzyk will definitely be interrogated
The minister of justice and the prosecutor general also commented on the visa scandal on Saturday on Radio RMF FM Zbigniew Ziobro. When asked about the responsibility of deputy minister Piotr Wawrzyk and possible charges against the former deputy minister of diplomacy, Ziobro replied that "such an interrogation will definitely take place."
– At the moment, I can say, contrary to the claims of politicians from the Civic Platform and, following them, some media, that there is not a shred of evidence at the moment that would indicate that Mr. Wawrzyk derived any benefits, in this sense he was criminally involved in this practice – said Ziobro.
He argued that this was a practice "on a micro scale compared to what the fairy-tale writers from the Civic Platform, who are desperate because they are losing, say." elections".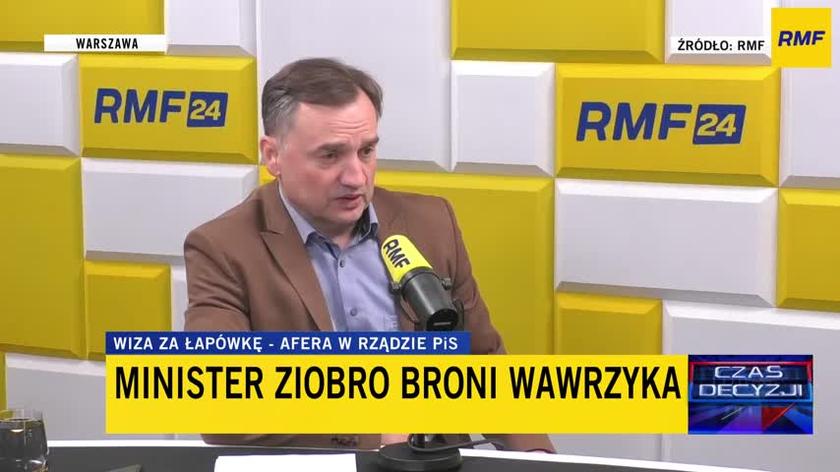 Visa scandal
Investigations into irregularities in submitting visa applications are conducted by the prosecutor's office Central Anticorruption Bureau. The opposition talks about corruption and claims that hundreds of thousands of documents issued arouse suspicion. Head of PO Donald Tusk he called it "the biggest scandal of the 21st century in Poland."
The deputy director of the Department of Organized Crime and Corruption of the National Prosecutor's Office, Daniel Lerman, reported at the Thursday conference that "the investigation was initiated on March 7, 2023 based on materials provided by the Central Anticorruption Bureau."
– It concerns paid protection in the acceleration of visa procedures in relation to several hundred visas and visa applications submitted over a year and a half. Of these several hundred visas, most of them were granted through refusal decisions, the prosecutor explained. He added that the procedure concerned applications for visas for foreigners to work in Poland.
Former deputy minister Piotr Wawrzyk, who was dismissed from his position due to the scandal, was hospitalized on Friday.
Main photo source: Marcin Banaszkiewicz / FotoNews / Forum