President Rafał Trzaskowski summed up his five-year term of office. He listed the most important investments that were completed during his rule: the opening of new metro stations, changes to the so-called Pięciu Rogów Square or renovation of Trzech Krzyży Square. He also talked about those that are under construction, such as the pedestrian and bicycle bridge over the Vistula.
The Mayor of Warsaw, Rafał Trzaskowski, summarized the expiring term of office (it ends in spring next year). Halfway through, in 2021, he presented list of 100 different activities, which are to be completed before its expiry in 2023. On Tuesday, he briefly discussed the implementation of these projects.
Rafał Trzaskowski emphasized that during his five-year term, 11 new metro stations were opened and more are planned. – 17,000 new places were created in nurseries, and two thousand children were born in the in vitro program. We have deconcreted the city – 40,000 square meters of concrete were removed last year alone – he said.
Street renovations and investments in the health sector
He noted that it is not always possible to radically change the appearance of the streets after renovation, as this involves huge costs. – Such investments are often divided into stages – he explained. As an example, he gave Trzech Krzyży Square, where, as he promised, greenery would appear a little later.
– We have an accumulation of renovations and sometimes we simply prefer to do something in the basic version and leave the construction site faster so that this accumulation does not last longer – he emphasized.
He also mentioned investments in the health sector, such as the completion of the Southern Hospital and the modernization of hospitals in Bielański and Wola. – The Warsaw Women's Institute was established, where we deal with women from girls to seniors in a comprehensive way – he added.
– Most public buildings will have photovoltaics. Not all of them, because in some cases it is impossible to do this, for example because the roof will not bear the load or there are unexplained ownership situations. In addition, there are issues of thermal modernization. If we wanted to thermally insulate all buildings that are part of the city's resources, it would cost over PLN 30 billion, he said.
Schools, pedestrian and bicycle bridge, Skra area
During the five-year term, noted the mayor of Warsaw, 25 kindergartens were built and modernized, and 12 new schools were established. – Especially in new districts, e.g. in Białołęka, three schools were built. We are also nearing completion of the first high school built in over 20 years, in Wesoła – he explained.
– The cost of building the school has more than doubled since the beginning of my term. Schools were built for less than PLN 20 million. At the moment, sometimes you have to pay 40 million or more – said Trzaskowski.
He announced that it was being built pedestrian and bicycle bridge over the Vistula. – If we are to seriously connect these two places, i.e. the Vistula boulevards with the revitalizing Prague, this is a symbol that absolutely needs to be done – he emphasized.
– We finally got it back Skra area, which now looks completely different, is tidy and available to residents, he said.
He noted that 100 projects, 72 have been completed, 20 are in progress.
Over half a million trees, renovation of municipal apartments
– We have planted 620,000 trees out of the million promised. But I think the result is really good. We have renovated 10,000 municipal apartments. During my term of office, we have delivered over a thousand, and over 1.5 thousand are under construction. Of which 600 are municipal investments and 900 are TBS. In addition, we spent huge amounts of money on the so-called municipal apartments. empty buildings – he calculated.
He explained that during this time the paid parking zone has almost tripled and 200 kilometers of bicycle paths have been built. – We spent a lot of money on new low-emission rolling stock – he added.
What went wrong? Bypass and TR Warszawa
He said that perhaps in a year or two, railway workers will begin the renovation of the cross-town tunnel using the open-pit method, which will result in the creation of a huge tunnel in the center of Warsaw between Zawszy Square and Powiśle.
In this context, he referred to the number of renovations in the capital and their accumulation.
– We had renovations planned, but the pandemic happened, everything stopped, etc. So the situation is clear, either we will do everything between the end of the pandemic and the beginning of the renovation of the cross-city line, or some of these renovations would simply involve the renovation of railway workers and then it would be very difficult. Hence, apart from the tram, we also had to make viaducts of the Łazienkowska Route, Trzech Krzyży Square and a few other renovations. Because then we simply wouldn't make it in time, explained the mayor of Warsaw.
He expressed hope that the construction of the Museum of Modern Art and Central Square will be completed next year.
– I encourage you to be patient. Five Corners Square At the beginning it was criticized, but today it is positively assessed, he emphasized.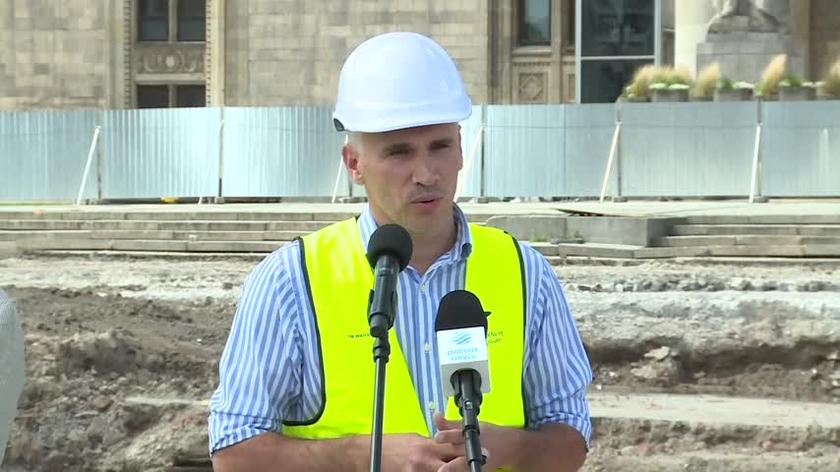 When asked what had not been achieved, he mentioned the issue of the downtown bypass and the construction of a new seat for the Variety Theater. (TR Warszawa) – We cannot afford to spend over half a billion zlotys on TR today. This worries me because it will create a kind of gap in the center's design – he added.
Main photo source: City Hall of Warsaw