On Sunday, politicians in the TVN24 program "Kawa na lęę" discussed the meeting of European leaders of conservative parties Warsaw Summit. The opposition pointed to Marine Le Pen's ties with Putin, and representatives of the ruling party explained the necessity of such a meeting.
On Saturday it took place in Warsaw meeting of the leaders of European conservative and right-wing parties under the name of Warsaw Summit. The summit was attended, among others, by PiS president Jarosław Kaczyński, prime minister Mateusz Morawiecki, as well as Fidesz chairman, Hungarian prime minister Viktor Orban, president of the Spanish Vox Santiago Abascal and head of the French National Union Marine Le Pen. Politicians discussed, inter alia, on cooperation and the future of the European Union, including institutional reforms. Jarosław Kaczyński was the initiator of the talks.
The meeting was commented on on Sunday by guests of "Coffee on the bench": MEP Anna Zalewska, president's advisor professor Andrzej Zybertowicz, PSL MEP Krzysztof Hetman, MP and spokeswoman for the Covenant Magdalena Sroka, PO MP Jan Grabiec and Left MP Joanna Scheuring-Wielgus.
Zalewska: We do not agree to federalisation
– Firstly, it is a continuation, and secondly, the necessity and concern that during the discussion about what Europe should look like, we should say that we are entering a Europe of homelands, not federalisation – explained the meaning of the meeting Zalewska. She added that "the last weeks and months are all kinds of events that provoke us to start saying aloud no". "We don't agree to federalisation," she said.
As pro-mutinist behavior, she mentioned, among others, "signing a coalition in Germany, Angela Merkela's behavior, investing billions of dollars and euros in Putin's propaganda, allowing the entire European Union to be blackmailed when it comes to the construction of Nord Stream 2" and "most prime ministers, foreign ministers of various types of countries countries, Germany, Austria, France and Finland, employed directly in Gazprom and in companies that are dependent on Gazprom. "
Zybertowicz: Unia has put an energy loop around its neck
According to Professor Zybertowicz, "the entire EU has put an energy loop around its neck through its dependence on Putin." – It was not established by the hands of those politicians who came to Warsaw, but by the decisions of mainstream politicians and agents. Those people who openly work for Gazprom or other Russian institutions are former politicians who are now open agents of influence, but also secret agents are among the politicians in the decision-making game, he said, responding to allegations that Le Pen has links with the Kremlin.
– Putin wants to destroy Europe as an organism that would show the Russian society that it is possible to build abundance in a democracy – said Zybertowicz. – Let's compare the point capabilities of politicians like Ms Le Pen, supporting Putin, and systemic submission to Putin's policy, which has led Europe to face inflation, which is contributed by the game of gas exports by Putin – he said. He also asked if it was possible for "Le Pen to be even more pro-Russian than Macron".
Hetman: Kaczyński's views are evolving towards such views as Le Pen
Hetman said that he understood from the statements of Zybertowicz and Zalewska that "the logic is that we will not cooperate with those secret agents of Vladimir Putin, but we will cooperate with open agents of Vladimir Putin in Europe". – This is a very good argument – replied Zybertowicz. "It's probably better to work with someone we know what's playing about than someone who pretends to be a democrat and is on Putin's belt," he added.
Hetman recalled that in 2017 Jarosław Kaczyński "said that saying that Law and Justice wants to cooperate with the National Front is a lie and anyone who says that is a fraud." – Today she signs an ideological declaration with her, some declaration of cooperation, but Ms Marine Le Pen says exactly the same in 2021 as in 2017. Therefore, it is clearly visible whose views are evolving, and the views of Jarosław Kaczyński and PiS are evolving towards views such as Marine Le Pen – assessed the PSL politician.
He recalled that Le Pen claims that the common market in the EU should be eliminated. – This is the foundation of the European Union. When the common market is abolished, there is simply no European Union. It is clearly visible that Law and Justice has signed an agreement with someone who wishes the European Union badly, he added. He also noted that one of the first people to congratulate the Spanish Vox party on the election result was David Duke, a former Ku Klux Klan champion and Holocaust denier. – Yesterday, Law and Justice signed an ideological declaration with such people, said Hetman.
Zybertowicz: the mainstream does business with Putin
– Jarosław Kaczyński was not, is not and will never be a hostage of Mrs. Le Pen, and Donald Tusk was, is and will be a hostage of the German elite – replied Zybertowicz. He also assessed that "mainstream is doing business with Putin, and anti-mainstream is being bought by Putin." "Ms Le Pen receives millions, if I am not mistaken, under a loan from Mr Putin, and Ms Merkel allows Putin to earn billions from gas exports, limiting the possibilities of diversification strategies," he added.
He assessed that "Europe has become dependent on the hands of mainstream politicians on authoritarian dictators – it must negotiate with Lukashenka, with Putin." – An order that wants to be lawful and democratic due to the short-sightedness of the elites and their submission to strategic corruption have led Europe to come to an agreement with representatives of authoritarian authorities – he said. He stated that Kaczyński organized the Warsaw Summit "because of a political game in which Poland's interests are a priority and the Union, which will be on Putin's belt, is not in our interest."
– We are constantly faced with the dilemma of whether we want to have a Europeanized Germany in the Union, sensitive to the needs of other nations, or whether we want a German Union – asked Zybertowicz.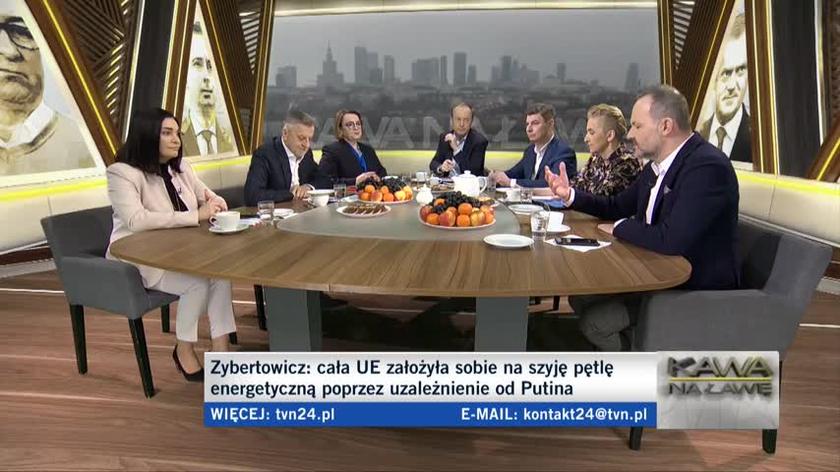 Grabiec: a manifestation of the failure of Jarosław Kaczyński
According to Grabiec, "this situation is untenable". – We all know who Marine Le Pen is. She took money from Moscow, Putin raised her to these heights of French politics, he said.
– We are in a situation in which the ruling party in Poland, Jarosław Kaczyński, Prime Minister Morawiecki, decide that Poland's partners in the European Union should in fact be pro-Putin international – assessed the PO politician. – This is a manifestation of Jarosław Kaczyński's failure when it comes to European politics. Today there are no partners in the European Union, at his own request. The only partners of PiS today are anti-European and pro-Putin parties, he added.
He stated that "building this Putin international together with PiS in Europe is contrary to the interests of Poland, although it serves the interests of the ruling party in such a way that the weakening of the Union is in favor of Kaczyński today, he hopes that he will rule in Poland longer. that there will be no pressure on democratic procedures, elections, independence of the judiciary and this power of the judiciary will strengthen, similarly to that of Lukashenka or Erdogan. " – Fortunately, it failed today and I hope it will – he said.
Scheuring-Wielgus: no one else will meet Jarosław Kaczyński
Scheuring-Wielgus recalled that Le Pen said a few years ago, when she ran for the presidency, "that she was against the Schengen agreements because she believes that Schengen has made Europe a sit." – This is the foundation of the European Union. After all, we, Poles, were happy that we joined Schengen. Mrs. Le Pen is against this. She also did not question the occupation of Crimea by Russia – she said. She added that she "almost applauded" this activity.
She also referred to the words of Zybertowicz that Kaczyński was not "hostage to Le Pen". – Kaczyński is a hostage here in Poland – anti-vaccines, nationalists and fundamentalists – she assessed.
– Why does the Law and Justice government meet with such radical and non-European parties? Because no one else will meet Jarosław Kaczyński. No other pro-European party will meet people who question the rule of law, who question minority rights, who question the rights of refugees, who question women's rights. Nobody just wants to meet you. Radicals who have their roots in such organizations as the Ku Klux Klan are meeting – the deputy explained.
She added that it did not surprise her, because "Law and Justice, since it has been ruling for six years, likes to enter into such affairs with fundamentalists, with nationalists, with radicals." – After all, we all know perfectly well that you are in a wonderful relationship with a very dangerous organization called Ordo Iuris – said Scheuring-Wielgus to PiS politicians.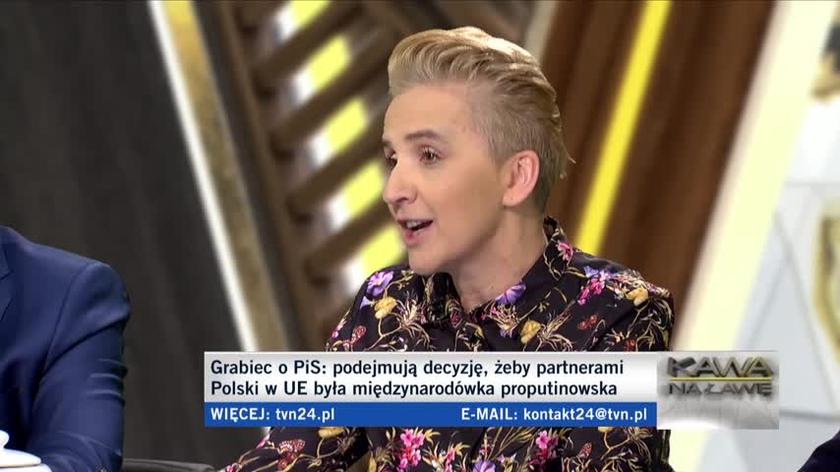 Sroka: PiS is pushing us into Putin's arms
Magpie assessed that this is "extremely unpleasant" because she has the impression that "at the moment, PiS does not really have the ability to dialogue in a democratic Europe, in a Europe where we, as Poland, want to be a strong state and we have such opportunities to be significant , a strong country in Europe ".
– Right now, right now, PiS is actually pushing us a bit into Putin's arms, because what else can you call meetings with party representatives, which in fact say "we are patriots, and all the others are traitors, all the others are unworthy". This is what the fascists did. These are extreme right-wing parties – she said.
She assessed that "although PiS loudly denies that it is not shoving us into Putin's hands and we are absolutely in the middle and waving the saber, it is going in the wrong direction, because only Europe and only the West is our future". "We have to be strong, but in Western Europe, not Eastern Europe," she concluded.